LINCOLN COUNTY PIONEERS WEDDINGS
PIONEER WEDDINGS:
Page 1 Page 2 Page 3 Page 4 Page 5 Page 6
PIONEER WEDDINGS FROM "The Harrington Citizen":
WEDDING CERTIFICATE NOTEBOOK OF RETURNS
WEDDINGS: EARLIEST OF lINCOLN COUNTY
WEDDING LICENSES FINANCIAL RECORDINGS
WEDDING NOTES OF LINCOLN COUNTY
WEDDING RECORDS OF HARRINGTON EVANGELICAL LEDGER
RECORD OF MARRIAGE LICENSES when Purchased ,
at the Lincoln County, WA, Courthouse.
Records are listed alphabetically by the bride and then by the groom.
1884-1890: BRIDE / GROOM /////// 1891-1893: BRIDE / GROOM
1894-1896: BRIDE / GROOM /////// 1897-1899: BRIDE / GROOM
1900-1902: BRIDE / GROOM /////// 1903-1904: BRIDE / GROOM
ACQUIRING MARRIAGE, & DIVORCE CERTIFICATES
This page is part of the Lincoln County, Washington GenWeb and was last updated October 2014.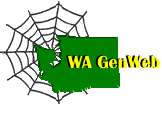 © Copyright 2006 WAGenWeb