Weddings of Lincoln County Pioneers
Submitted by Barbara Curtis
---
Page 6...... Listed chronologically by the date the item was published in the newspaper.
---
WEDDING BELLS
The Sprague Herald Wednesday, July 26, 1888
Invitations were issued this week to a large number of their friends to the wedding of Mr. J. T. ALLEN and Miss MAGGIE JONES both of this city. The marriage ceremony was performed last evening at the Congregational church, which edifice was handsomely decorated with house plants, evergreens etc. After receiving the congratulations of the assembled friends all repaired to the Commercial Hotel, where a grand spread was enjoyed. Mr. and Mrs. Allen were the recipients of a large number of handsome and valuable presents from their large circle of friends. The HERALD extends to the happy couple its most cordial greeting, the hopes that their future life may be as bright as present indications promise it will be.
---------------------------------------
In this city on July 7th, by HON. JOHN BARTOL, MR. FRANK W. STURGIS to Miss HELEN EASTERBROOKS. Mr. Sturgis is well and favorably known to every good citizen of Lincoln county, and Miss Easterbrooks is a lady in every essential of the term, and a jewel to her husband. The Herald wishes them among their many friends long life, prosperity and all their troubles little ones.
---
MARRIED
The Sprague Herald Wednesday, March 28, 1894
Last Thursday evening at the residence of the bride's parents, Mr. and Mrs. W. E. DIKEMAN, on Fourth street, in the presence of immediate relatives and a few intimate friends, Rev. MARK BASKERVILLE of the Congregational church, united in marriage Mr. EDWARD PEARS and Miss ZERUAH ISABELLA MCROY. Upon the following day the happy couple took up their residence at Mr. Pears' ranch near Sprague. The Herald, on behalf of their many friends, tenders cordial congratulations to Mr. and Mrs. Pears.
---
CARMAN-SIMONS WEDDING
Creston News, Dec 8, 1905
The marriage of SAMUEL J. CARMAN and Miss CARRIE LEE SIMONS, noted last week, occurred at the home of ELMER SIMONS instead of at her father's as reported. ( Long list of presents) Friday night a number of friends of the bride and groom fathered at the home of JIM CARMAN, where they were stopping, and treated them to a midnight serenade, accompanied with the usual noise-producing implements. The family was jarred out of bed, and after listening for a short time to the "music" the callers were invited in and served with an oyster supper, etc.
---
SPRAGUE BOY A BENEDICT
Sprague Independent Times, May 17, 1907
The marriage of ROSCOE JENSEN and Miss ETHEL MORRIS occurred in Spokane last Saturday. The young couple returned to Sprague and have gone to housekeeping on the groom's place near Sprague. The bride was a resident of Spokane and is a young lady whom the people will heartily welcome as a resident in our midst. The groom is a son of Mr. and Mrs. HARRY JENSEN and is strictly a home production. He was born and raised within a stone's throw of Sprague and has the highest esteem of all his acquaintances. This paper joins the many friends of the estimable couple in extending best wishes for their future happiness and prosperity.
-------------------------------------------------------
PROMINENT FARMER MARRIED
AUGUST WITT, a wealthy farmer living north of Sprague, and Miss ETTA BROOKS of Kalamazoo, Mich., were married at the Methodist parsonage on Thursday evening of last week. Only a few of the immediate relatives and friends of the contracting parties were present. The newly wedded couple left on the evening train for Spokane on a honeymoon trip. The bride is a recent arrival from the East and the groom is a well known farmer of this locality. Both have the hearty good wishes of a host of friends....
---
A HAPPY UNION
undated. Guessing 1914 or 1915
At Davenport, at the residence of Mr. and Mrs. C. A. PETTIJOHN on Monday, November 16, Rev. MILLER of the M. E. church performed the ceremony which united the lives of Miss VIRGIE REAMS and E. E. ANDERSON, two well known and popular young folks of Sprague. Mr. and Mrs. Pettijohn stood up with the contracting parties and a sumptuous wedding dinner was served after the ceremony. The young folks went by auto to Davenport with WM SHAWGO who after the ceremony took them to Spokane where they remained until Tuesday. when they returned to Sprague. Mrs. Anderson is the daughter of Mr. and Mrs. GEO. REAMS and is a young woman who is highly respected by a large circle of friends. Mr. Anderson is an expert carpenter and has a host of friends who wish him and his bride all the good luck possible in their new relation. The newly wedded couple will remain in Sprague for the present. Submitted by Barbara Curtis. (EDIT: I had to post this, without a date, because as I did a search for the date on our site, I failed that, but found the life of Virgie Reams Anderson, all right here. I found Virgie Reams, born in Missouri, as a girl of 7 years old in the 1902 census in Sprague with her parents George and Belle Reams and 5 siblings, in 1903 as a school girl in Sprague, and sadly as a young woman of 25 years, with a three year old child dying from the influenza in January, 1919, her burial in Maccabee cemetery, Sprague. Her husband died of the same 10 days later, both have obituaries under Maccabee Cemetery listings. The lives of some of her other siblings are found here also. ALL of this information I found posted on our Lincoln County Genweb site. Right here in one spot. If you are researching this family, I would love to know the exact wedding date, and I would love to know what happened to the child. That's why I LOVE doing this, Rella : ) .)
-----------------------------------
BOEHL- MCELWAIN
Sprague Advocate, Jun 01, 1917
Miss EDNA BOEHL and CLAUDE E. MCELWAIN two popular Sprague young folks were married in Spokane on Thursday.....
---
WORBY WEDS
Lincoln County Times, Davenport, WA Oct 18, 1907
Miss LILLIE WORBY, daughter of Mr. and Mrs. THOMAS WORBY of this place, was married today to BERT RUSSSEL of Davenport, the wedding taking place there. Mr. Russell is an employee of the Big Bend mill of Davenport, and they will make their home in that city for the present at least. The bride is a sister of DANIEL WORBY, of the well known mercantile firm of Larber & Worby of Creston.
---
R. W. WHITFORD WEDS
Sprague Advocate, Sep 2, 1920
Announcements have reached here of the marriage of R. W. WHITFORD of Cheney to Mrs. CHARLOTTE A. THOMAS of Seattle Wednesday August 25. Mr. Whitford was superintendent of schools at Sprague about ten years ago and since leaving here has been an instructor at the Cheney Normal. The newly married people will be at home to friends in Cheney after Oct 1.
---
WILL BE MARRIED AT MONDOVI
Davenport Times-Tribune, Oct 12, 1939
Miss IONE WACHTER, daughter of Mr. and Mrs. HAM WACHTER of Wilbur, and CHARLES KUCHENBUCH, son of Mr. and Mrs. GEORGE KUCHENBUCH of Ellensburg, will be married Saturday, October 14, at the home of Mr. and Mrs. CHARLES KUCHENBUCH at Mondovi. Miss Wachter was graduated from the Wilbur high school in 1935, and has been working at Ellensburg. Mr. Kuchenbuch is engaged in farming at Ellensburg.
---------------------------------
LICENSE TO DAMSITE COUPLE
An application for a marriage license was filed with the county auditor Thursday morning by BROOKS BOYD, age 33 and DALE KELLAM, age 24, both of the Coulee Dam, with JUANITA GRANELSTEAD of Coulee Dam as their witness. The license was issued to them Saturday.
----------------------------------
SHOWER FOR RECENT BRIDE
Miss BONNIE GREENWOOD entertained Saturday afternoon at a miscellaneous bridal shower for Mrs. ALVIN PAULSEN ( IONE FISH) at the home of Mrs. HOYT P. CARR. The honor guest received many beautiful and useful gifts. Those attending in addition to the honor guest and the hostess included Mrs. RASCH PAULSEN, Mrs. MARION PARSELL, Mrs. ROBERT WILLIAMS, Mrs. GLADYS HOFFMAN, Mrs. ERNEST WILKE, Mrs. CARR, Miss VERNA ZIMBELMAN and Miss EDNA SMITH.
---
MARRIED IN SPOKANE
Davenport Times-Tribune, Oct 26, 1939
Miss ANITA ALBERT of Spokane and formerly of Espanola and EEDWAR J. MANN, also of Spokane were married at St. Francis Assissi Rectory at 9 A. m. Saturday with the Rev. Father CORNELIUS officiating. Miss BERTHA ALBERT, sister of the bride was bridesmaid and MAC KELLY, best man. A wedding breakfast and a reception at the home of the bride's parents followed the ceremony. Twenty three members of the immediate families attended the wedding and breakfast. The bride wore wine velvet dress and hat with black and wine accessories and a corsage of gardenias. Mrs. Mann is the daughter of Mr. and Mrs. HENRY ALBERT of Espanola and is a graduate of the Reardan high school. Mr. Mann is the son of Mr. and Mrs. GEORGE MANN of Spokane and was graduated from Gonzaga high school He is with the Loose-Willis Biscuit company. They will make their home in Spokane.
---

A special thank you to Barbara Curtis for finding and submitting these items.
All items are typed "as is" from the newspaper, spelling errors, oddities etc. included, R. Gleaton.
Submit your wedding story to the Lincoln County Co-ordinator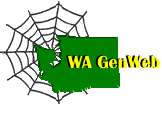 This page updated January 29, 2010.
© Copyright 2009 WAGenWeb