Vital Records of Lincoln County, Washington


These are the earliest records available for Lincoln County.
These records are NOT all inclusive (complete)

ACQUIRING BIRTH OR DEATH CERTIFICATES

BIRTH RECORDS OF LINCOLN COUNTY: 1880 through 1907
Our Birth Records may appear alike, but are not all the same. There are additions and other differences.
BIRTH REGISTRY OF LINCOLN COUNTY: 1880 through 1907
BIRTH REGISTRY OF LINCOLN COUNTY through 1907
1891-1892 1893-1894 1895 1896 1897 1898 1899 1900

BIRTH/ BAPTISM RECORDS OF HARRINGTON MISSION EVANGELICAL *

BIRTHS OF HARRINGTON *

BIRTH RECORDS OF ODESSA:* Page 1 Page 2 Page 3

NEWSPAPER BIRTH ANNOUNCEMENTS * Page 1 Page 2 Page 3

CALCULATING A BIRTHDATE

OLD NAMES FOR ILLNESSES

ASSORTED DEATH CERTIFICATES*

DAVENPORT-EDWALL METHODIST CHURCH DEATH LEDGERS *

DAVENPORT PRESBYTERIAN DEATH LEDGERS *

DEATH CERTIFICATES of FINNS in Lincoln County

DEATH INDEX WHICH INCLUDES YEARS 1907-1928,1937-1948,1967-1996
A-C D-G H-I J-K L-M N-O P-Q R-S T-V W-Z

DEATHS REGISTER of: 1891-1899 1900-1903 1904-1905 1906-1907
DEATHS REGISTER-Miscellaneous dates

DEATHS IN SPOKANE 1889

DEATHS IN VIETNAM FROM LINCOLN CO.: FACES FROM THE WALL MEMORIUM

FUNERAL HOME DEATH DATA*

TYPHOID FEVER REPORT 1915*
*Information submitted by Marge Womach

This page last updated April 17, 2012.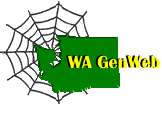 © Copyright 2002 WAGenWeb