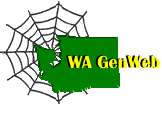 Lincoln County Index to Death Certificates
W through Z
Submitted by Rella Gleaton
This DEATH INDEX is listed alphabetically by Surname and includes the following years:1907-1928 1937-1948 1967-1996.
The missing years are no longer registered in Lincoln County but at Olympia, WA.
I typed this from an original list "as is" thus some of the spellings are different.
*Behind the name on the original list was (NMN) which means No Middle Name.
+ Name is continued after the date.
Name Date of Death
WACKER, ALVIN RAYMOND SEP 29, 1971
WACKER, BERNICE BELLE AUG 06, 1972
WACKER, HELEN MARTHA DEC 19, 1974
WACKER, HENRY DEC 30, 1937
WACKER, HENRY JOSEPH DEC 16, 1972
WACKER, HENRY PHILLIP JAN 15, 1979
WACKER, HILDA R. OCT 06, 1973
WACKER, JACOB JR AUG 20, 1944
WACKER, KATIE* NOV 01, 1978
WACKER, RULIENT JUN 10, 1925
WAGNER, ALFRED* NOV 16, 1978
WAGNER, EILEEN CECELIA JAN 04, 1970
WAGNER, KATHERINE ROSEN NOV 27, 1968
WAGNER, LAURENCE ALFRED AUG 03, 1993
WAGNER, LENHARD(LEONARD)JOSEPH FEB 14, 1979
WAGNER, MARIE SOPHIA JAN 03, 1944
WAGNER, RICHARD DEC 13, 1968
WAGNER, TRELLA DAISY DEC 24, 1988
WAHL, EARNEST JAN 08, 1916
WAHL, HOWARD LOUIE AUG 06, 1984
WAITE, MALINDA AGNES DEC 21, 1919
WALDO, CLAUDE JAY JUN 26, 1970
WALKER, CLIFFORD MAURICE MAR 18, 1992
WALKER, CONSTANCE LUCILLE DEC 19, 1985
WALKER, HOWARAD COULTER OCT 18, 1971
WALKER, IDA MAY JUL 09, 1944
WALKER, KEITH JEROME AUG 15, 1982
WALKER, NINA MARIE JUL 19, 1984
WALKER, RUFUS CLAYTON AUG 17, 1991
WALLIS, JOHN MAR 27, 1919
WALLMARK, EDNA* DEC 11, 1981
WALTEN, ROSE ELLA FEB 20, 1978
WALTER, ANNA MAY 11, 1967]
WALTER, ANNA RACHEL JUN 03,1995
WALTER, CARL* NOV 06, 1977
WALTER, CAROL JUNE JAN 02, 1971
WALTER, HENRY* DEC 11, 1978
WALTER, HERBERT* JUN 26, 1990
WALTER, IRENE MAR 05, 1918
WALTER, JACOB J. DEC 19, 1970
WALTER, JACOB JR. NOV 14, 1993
WALTER, JACOB RACHEL JUL 06, 1972
WALTER, JACOB SR. APR 05, 1943
WALTER, JAN MARTHA MAY 17, 1970
WALTER, MARTHA G. FEB 26, 1975
WALTER, NAOMI REBECCA FEB 17, 1991
WALTER, RACHEL J. AUG 08, 1975
WALTER, SOLOMON* JUL 11, 1986
WALTER, TALLULAH LEE APR 09, 1986
WALTER, VERNA MAE JAN 24, 1971
WALTERS, DAHLE EARL FEB 26, 1981
WALTERS, DONALD EDWARD APR 28, 1996
WALTERS, EMMA M. FEB 11, 1947
WALTERS, FRANCES IRENE OCT 01, 1919
WALTERS, GEORGE K. AUG 10, 1941
WALTERS, LUCY ETTA DEC 11, 1988
WALTHER, JACOB* OCT 02, 1981
WALTHER, PAULINE* NOV 06, 1986
WALTKINS, JAMES HOMER NOV 14, 1985
WALTMAN, GEORGE W. JUL 20, 1944
WALTON, EARL GUY JAN 16, 1941
WAMBA, CLARICE MONTGOMERY JUN 26, 1969
WARE, EMORY FRANKLIN AUG 14, 1987
WARE, GEORGE WASHINGTON JAN 11, 1945
WARNECKE, AUGUST HENRY APR 23, 1970
WARREN, CHARLES S. NOV 18, 1937
WARREN, JOSEPH WYMAN SEP 05, 1938
WARWICK, ALICE NOV 02, 1914
WARWICK, BILLIE ELIZABETH NOV 09, 1988
WARWICK, BILLIE ROCKFORD SR. DEC 20, 1992
WARWICK, CLYDE H. JAN 07, 1944
WARWICK, DONIVAN ELMO NOV 12, 1989
WARWICK, ELDON ELLSWORTH OCT 07, 1969
WARWICK, MARY DOROTHEA AUG 28, 1987
WARWICK, VIRGINIA ETHEL DEC 12, 1968
WARWICK, WILLIAM RUFUS JAN 31, 1947
WASSER, CHARLES A. MAY 01, 1939
WASSUM, ELBERT C. JUL 23, 1941
WATSON, ALVIN EDWA MAR 03, 1970
WATSON, GLEN CHARLES JAN 12, 1982
WATSON, JAMES TAYLOR OCT 18, 1947
WATSON, MARSHALL THOMAS JAN 07, 1990
WATSON, MARY DELILAH JAN 21, 1983
WATSON, WILLIAM LAWRENCE MAY 24, 1945
WATT, GOTTLEIB GUSTAVE JUN 05, 1920
WATTS, SARAH ANN APR 21, 1948
WEAVER, HENRY ESTEL JAN 10, 1996
WEBB, SELMA MARIE JAN 12, 1983
WEBB, SHIRLEY MAE AUG 20, 1989
WEBBER, CLIFTON L. MAR 10, 1971
WEBER, ADOLPH JAMES JAN 09, 1982
WEBER, ANNA SEP 12, 1970
WEBER, CHRISTIAN D. MAR 16, 1923
WEBER, CONRAD* DEC 12, 1967
WEBER, DAVID* APR 12, 1990
WEBER, GERTRUDE MARTHA NOV 29, 1987
WEBER, HAROLD B. AUG 15, 1974
WEBER, HENRY* AUG 31, 1979
WEBER, IDA* JUN 25, 1980
WEBER, LYDIA NOV 10, 1992
WEBER, MARCUS CORUS APR 08, 1970
WEBER, ROBERT JAMES SEP 29, 1969
WEBER, THERESA JUL 25, 1967
WEBER, THOMAS MAY 06, 1944
WEBER, TONEY* NOV 24, 1969
WEBER, WENTEL MAR 23, 1969
WEBER, WILLIAM FREDERICK JAN 02, 1981
WEBLEY, OLIVER GLEN AUG 02, 1920
WEDDLE, KATHERINE ELIZABETH DEC 15, 1984
WEEKES, GEORGE JAMES JAN 09, 1948
WEEKS, CHARLES LEROY MAR 24, 1976
WEGELE, KATHERIN* JAN 04, 1968
WEGER, MARY A. MAR 25, 1914 (SEE MEGER, MARY A.)
WEGNER, CAROLINE MAR 23, 1945
WEGNER, LILLIE E. AUG 15, 1973
WEIK, LEWIS CHARLES AUG 22, 1947
WEILAND, EMMA MAY SEP 14, 1988
WEILAND, JOHN FRANK AUG 29, 1985
WEINBERG, MRS.AMELIA MAY 09, 1918
WEISHAAR, DONALD WAYNE JUN 19, 1993
WEISHAAR, LOUISE* DEC 07, 1990
WEISMANN, KRISTEN KNUDSEN AUG 04, 1943
WEISSER, RUBY ETHEL MAY 28, 1992
WEISSER, SAMUEL HENRY SEP 11, 1971
WEIZEL, INFANT MAR 08, 1925
WEIZEL, INFANT FEB 24, 1915
WELLENCE, SUSIE* NOV 27, 1995
WELLS, JUDAH OTIS JUN 13, 1987
WENDLANDT, BENJAMIN WILLARD APR 26, 1987
WENDLANDT, BERTHA OCT 26, 1938
WENDLANDT, CHESTER ORVILLE FEB 28, 1974
WENDLANDT, ETTA KETURAH MAY 14, 1986
WENDLANDT, WALTER CLARENCE NOV 01, 1983
WENRICK, ADA MAE OCT 24, 1921
WERNER, ADRIAN ERNEST APR 05, 1969
WERNICK, MYRTLE MILLS SEP 16, 1972
WESLEY, DAVID HENRY FEB 14, 1994
WESLEY, GEORGE* DEC 17, 1981
WESLEY, HENRY JUL 21, 1994
WESP, MARY E. JAN 05, 1939
WESP, SYLVESTER R. NOV 12, 1927
WESTON, MAURICE LLOYD MAR 09, 1975
WETZEL, ALFRED FRANK SEP 16, 1987
WETZEL, GENEVIEVE NOV 26, 1978
WHALEY, MICHAEL L. MAY 20, 1983
WHEELDON, HOWARD WILLIAM MAR 20, 1917
WHEELDON, INFANT MAR 22, 1920
WHEELER, BYRL FRANK APR 02, 1967
WHEELER, MINNIE CHRISTINA SEP 16, 1988
WHIDDEN, HARRY E. FEB 09, 1939
WHIPPLE, DANIEL W. FEB 19, 1976
WHIPPLE, HOWARD SIDNEY NOV 15, 1969
WHITE, BERNARD BENNETT AUG 21, 1981
WHITE, BERNARD MILTON DEC 19, 1980
WHITE, DELMER V. NOV 19, 1974
WHITE, JESSIE BENARD JUN 30, 1937
WHITE, JOHN MILTON JUL 21, 1943
WHITE, LUCILE HAZEL SEP 19, 1987
WHITE, PAULINE PHORNEY JAN 12, 1980
WHITE, RUTH MARIE INGELBORG MAR 25, 1983
WHITE, VAUGHN HENRY MAR 29, 1973
WHITELOW, GEORGE MAY 04, 1943
WHITESIDE, ARTHUR EDWIN DEC 12, 1970
WHITESIDE, EUNICE GEORGIANA NOV 16, 1973
WHITESIDE, LAWRENCE ARTHUR MAY 30, 1996
WHITESIDE, NORA ELLA APR 29, 1993
WHITNEY, HAZEL CLAIR DEC 24, 1967
WHITNEY, JOHN WILLIAM NOV 08, 1991
WHITNEY, LOIS GRACE MAY 03, 1991
WICK, LEWIS CHARLES AUG 22, 1947 (SEE WEIK, LEWIS CHARLES)
WIDMER, ORVILLE DANIEL JAN 09, 1996
WIDMER, OSCAR* SEP 20, 1978
WIDMER, RUBY MILDRED MAR 23, 1981
WIDMER, WELDON WILLARD SEP 06, 1987
WIEDMANN, CHARLES W. FEB 08, 1977
WIEK, LEWIS CHARLES AUG 22, 1947 (SEE WICK, LEWIS CHARLES)
WILCOX, SAMUEL R. JUN 28, 1947
WILDER, OLIVETTE CHARLOTTE OCT 25, 1974
WILEMEYER, WILLIAM OCT 30, 1915
WILERNEYER, WILLIAM OCT 30, 1915 (SEE WILEMEYER, WILLIAM)
WILKE, BEULAH WILSON MAY 07, 1982
WILKE, CHARLES F. JAN 16, 1939
WILKE, HERMAN A. MAR 11, 1947
WILKE, ZOE ELIZA FEB 26, 1970
WILKEN, JOCHIM APR 20, 1939
WILKEN, WANDA LUISA OCT 08, 1980
WILKINSON, ROBERT ERWIN MAY 09, 1942
WILLCOX, WILL* DEC 20, 1982
WILLGING, CLARA MAY MAR 09, 1988
WILLGING, KATHERINE* JUN 17, 1983
WILLIAMS, AMANDA E. OCT 29, 1919
WILLIAMS, DEAN NOV 21, 1924
WILLIAMS, JAMES PINKNEY NOV 24, 1988
WILLIAMS, JESSE ELSWORTH AUG 12, 1942
WILLIAMS, JOHN D. OCT 20, 1968
WILLIAMS, LLOYD ORSON JUN 22, 1968
WILLIAMS, LOLA MAE NOV 13, 1979
WILLIAMS, MARTHA PAULINE JAN 23, 1973
WILLIAMS, MARY ANN MAY 28, 1972
WILLIAMS, MARY JANE NOV 17, 1940
WILLIAMS, MERLE JACK FEB 12, 1982
WILLIAMS, MICHAEL LEE JUL 16, 1967
WILLIAMS, MOSE P. OCT 21. 1985
WILLIAMS, RAYMOND BENJAMIN MAY 25, 1984
WILLIAMS, REBECCA DOBSON AUG 04, 1988
WILLIAMS, ROYCE THEODORE NOV 29, 1975
WILLIAMS, RUSSSELL LOWELL SEP 23, 1982
WILLIAMS, THOMAS W.C. JUL 12, 1941
WILLIAMS, VIOLA OCT 19, 1974
WILLIAMSON, ERNEST C. APR 11, 1994
WILLIE, EDITH ELBERTIC JUN 03, 1984
WILLIS, HENRY C. APR 03, 1947
WILLIS, MRS. ELIZABETH WALKER AUG 27, 1943
WILLOUGHBY, MARY AUG 17, 1939
WILPNONEN, E. EDWARD OCT 13, 1988
WILSKIE, DANIEL BENJAMIN JUN 17, 1981
WILSON, FRANK EDWARD SEP 07, 1972
WILSON, HEDRA LEONE FEB 28, 1970
WILSON, JAMES JASPER FEB 11, 1978
WILSON, JENNIE JAN 01, 1939
WILSON, JOHN ROBERT JUL 08, 1941
WILSON, LESTER ARLOW FEB 21, 1948
WILSON, MARIE ANNETTE APR 14, 1990
WILSON, NITA MARIE SEP 13, 1992
WILSON, ROY MILLER MAR 30, 1987
WILTZINS, MARY MARGRET MAY 28, 1948(AKA WILTZMIS, MARY MARGRET)
WINGER, MARY MAR 07, 1918
WINNINGTON, THOMAS MAY 17, 1923
WINTER, SARAH ERNIE FEB 07, 1967
WITT, PAULINE K. JAN 30, 1945
WOIT, CHRIST OCT 18, 1918
WOITT, ESTHER M. JAN 30, 1917
WOLD, ETHEL* OCT 31, 1981
WOLF, ALBERT WALTER FEB 28, 1981
WOLF, INFANT JAN 22, 1918
WOLF, JAMES E. FEB 13, 1940
WOLFENBARGER, CAROLIEN E.+ DEC 25, 1938 +ELIZABETH
WOLFF, CHRISTIAN JOHN APR 11, 1980
WOLFF, CHRISTINA AUG 30, 1971
WOLFF, HENRY JR FEB 23, 1989
WOLFRUM, BONNIE JEAN APR 24, 1996
WOLFRUM, JOHN GEORGE OCT 18, 1979
WOLFRUM, LOTTIE AGNES DEC 24, 1973
WOLFRUM, MARY MAGDILIN MAY 18, 1942
WOLFRUM, WILLIAM GOTTLEIB JAN 31, 1981
WOLLIN, GILBERT EMIL MAY 18, 1972
WOLSBORN, BERNICE GLADYS SEP 19, 1989
WOLSBORN, HELEN M. FEB 24, 1917
WOLSBORN, JOHN NOV 23, 1915
WOLSBORN, REBECCA* JAN 14, 1967
WOLVERTON, J.B. JUN 05, 1927
WOMACH, MRS CARRA L. NOV 10, 1940
WOMACH, WILLIAM JOSEPH APR 03, 1939
WOOD, DELLA MARION APR 13, 1988
WOOD, MARVIN LEROY OCT 14, 1993
WOOD, MERRITT LESLIE APR 10, 1987
WOODFORD, JOSEPH LOYD JUN 30, 1985
WOODS, CLYDE LAVEL SEP 05, 1973
WOODS, DANIEL LEWIS NOV 21, 1938
WOODS, EDWARD E. MAY 19, 1985
WOODS, GEO JUL 13, 1911
WOODS, SARAH MAR 08, 1922
WOOLSBORN, ANNA JAN 27, 1924
WRASPIR, ALICE LILLY JUL 15, 1994
WRASPIR, ARTHUR EDWARD MAY 23, 1994
WRASPIR, LOUIS MIRUMIL JUN 21, 1993
WRASPIR, STANLEY BOHUMIL MAY 07, 1988
WRIGHT, LYDIA CAROLINE FEB 28, 1944
WRIGHT, MILDRED ELAINE JUN 29, 1969
WRIGHT, TERRY ERLAND AUG 15, 1970
WUESTHOFF, URSULA ELLEN NOV 24, 1986
WYBORNEY, ESTHER IRENE APR 15,1995
WYBORNEY, LLOYD FEB 12, 1978
WYBORNEY, RAYMOND GEORGE SEP 16, 1975
WYNCOOP, JOSEPH ROGER NOV 18, 1977
WYNECOOP, DAVID WALTER JUN 20, 1937
WYNECOOP, MABEL NORA MAR 14, 1982
WYNECOOP, VERNON WADE JUN 07, 1980
WYNHOFF, GEORGE WILLIAM SEP 16, 1981
YADON, JOHN C. FEB 12, 1919
YADON, TISSIE JAN 02, 1924
YALE, ELLA MAY AUG 09, 1937
YARWOOD, ELIZA H. MAY 13, 1924
YARWOOD, INFANT JUL 09, 1919
YARWOOD, JOHN ELY DEC 28, 1993
YARWOOD, JOSEPH OCT 21, 1938
YARWOOD, MARY ELIZABETH OCT 31, 1918
YATES, MONALATA* DEC 06, 1987
YOHNKA, WILLIAM FREDRICK APR 02, 1939
YOST, DELIA DOW OCT 30, 1942
YOUNG, CLARENCE EARL JUN 16, 1969
YOUNG, MARY E. AUG 12, 1945
YOUNG NICOLE EILEEN SEP 02, 1985
YOUNG, VIOLETTE FEB 26, 1944
YOUNG, WILLIAM JOHN SEP 14, 1991
YUCKERT, ROBERT DEAN MAR 04, 1970
ZAGELOW, WILLIAM BRYANT OCT 30, 1995
ZANKE, CHRIST OCT 03, 1923
ZARK, EMMA CATHERINE APR 16, 1943
ZECH, EDITH FEB 11, 1940
ZEIGLER, LEONARD ROBERT APR 07, 1943
ZEILER, EDWARD OCT 30, 1992
ZEILER, ELSIE* DEC 21, 1972
ZEILER, KATHERINE MAY 08, 1924
ZEILER, ROY* MAR 07, 1994
ZEILER, SAMUEL WALTER SEP 07, 1977
ZEILER, WILLIE ALBERT SEP 05, 1939
ZEIMANTZ, SUSAN AUG 01, 1939
ZEIMANTZ, THEODORE EDWIN JUN 18, 1973
ZELLER, ROMAN L. DEC 06, 1970
ZELLMER, ALBERT ERNEST OCT 22, 1979
ZELLMER, EDWARD HERMAN MAR 08, 1981
ZELLMER, HELEN AGNES OCT 15, 1978
ZELLMER, WALTER AUGUST APR 08, 1976
ZICHA, ADELE REBECCA SEP 05, 1982
ZICHA, DONALD LOUIS APR 18, 1983
ZICHA, GEORGE JOSEPH JUN 05, 1974
ZICHA, REBECCA ALMA LOUISE FEB 07, 1971
ZIEMER, ELIZABETH LOUISE NOV 28, 1990
ZIER, ELIZABETH DEC 07, 1945
ZIER, GEORGE* JUN 21, 1984
ZIER, KATHERINE LOUISE MAY 01, 1970
ZIER, ROSA F. OCT 28, 1914
ZIMBELMAN, CURTIS GENE MAY 24, 1969
ZIMBELMAN, ELSIE(LIZZIE) AUG 20, 1989
ZIMBELMAN, GUSTAV OCT 17, 1969
ZIMBLEMAN, EMMA* MAY 12, 1984
ZIMBLEMAN, PHILIP APR 13, 1924
ZIMMER, WILLIAM LEE DEC 23, 1979
ZIMMERMAN, INFANT JUN 24, 1916
ZIMMERMAN, JOHN OCT 03, 1939
ZROLMANN, GOLLFRED APR 07, 1922
ZUEHLKE, FRANKLIN MURRAY JAN 26, 1990
ZUEHLKE, MARGARET WEBB NOV 23, 1987
ZUNDEL, FRED MAY 02, 1974
ZUNDEL, RUDOLPH NOV 12, 1975
ZWAINZ, GEORGE LEO AUG 18, 1989
=====================================================
USGENWEB NOTICE: In keeping with our policy of providing
free information on the Internet, data may be used by
non-commercial entities, as long as this message
remains on all copied material. These electronic
pages may NOT be reproduced in any format for profit
or for presentation by other persons or organizations.
Persons or organizations desiring to use this material
for purposes other than stated above must obtain the
written consent of the file contributor.
This file was contributed for use in the USGenWeb
Archives by: Rella Gleaton, January 14, 2003
======================================================

© Copyright 2003 WAGenweb