Return to Extractions Index.
---
The Seattle Star, December 4, 1909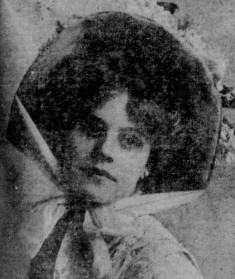 DORIS PIEPER.
Doris Pieper, a Seattle girl, who was lured to New York by a fake theatrical agent and left stranded there a few months ago, is coming home week after next. Doris is now playing a small role in "The Soul Kiss," and will open with that organization at the Grand a week from tomorrow.
Doris lived in this city with her parents for a number of years. Almost two years ago she conceived a desire to go upon the stage, and her pretty face, trim figure and willingness to learn won her a place with the Chas A. Taylor company.
In September, a year ago, she was signed by T. Daniel Frawley for small juvenile roles at the Lois, and remainded there until January of this year. While playing at the Lois, a man named Frederick L. Gartley representing himself to Doris as a Western agent for Klaw < Erlanger, and induced her to go to New York, furnishing her with the means and transportation for doing. He accompanied her to Portland, and then returned to this city.
Upon arrival at New York, she found the contract a fake, and she was left friendless and alone in a strange city. Her story traveled across the continent, and the Broadway managers, interesting themselves in her plight, found her steady employment with various dramatic productions. She has played continuously in the East until a few months ago, when she joined "The Soul Kiss" company.