Return to Extractions Index.
---
The Seattle Star, October 21, 1909
16, MARRIED FOR LOVE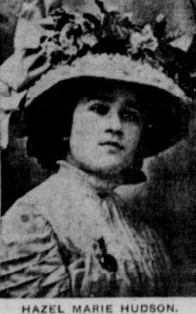 Here's little Hazel Marie Hudson, 16-year-old convent girl, who ran away from the Sacred Heart Convent at Salem, Ore., to marry Edgar Hudson, of Seattle.
They are living in a couple of rooms at 506 Minor av., N. A little furniture, some cooking utensils--this constitutes their home.
"But we're happy," said Hazel Marie--Mrs. Hazel Marie--proudly. "Because we love each other. I can do the cooking and looking after things at home, and Edgar can go out and earn the money.--Oh, we're going to have just lots of fun."
"Girls ought to marry young if they find the right man," said the girl bride, sagely. "I did, and I'm happy."
Hudson was a demonstrator at the Salem fair when Hazel Marie peered through the convent windows and saw him. They slipped off at night, went to Everett and were married. The girl's guardian followed them, with a detective, but the girl pleaded for her chance at happiness and won.