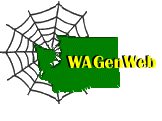 Welcome to

Yakima County, Washington
Genealogy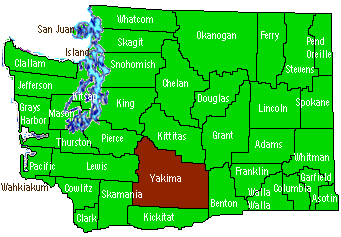 Yakima County is located in South Central Washington, on the East side of the Cascade Mountains. The Biles-Longmire wagon train came through Yakima Valley and made its way over Naches Pass in 1853, the first wagon train to cross the Cascades north of the Columbia River.
It was another eight years before permanent settlement began in the Yakima Valley. The F. Mortimer Thorp family is credited as being first. Thorp drove his cattle herd up from Klickitat Co in October of 1860 and moved his family in February of 1861.
Yakima County was formed from Walla Walla Co. in 1865, and originally included all of Kittitas Co. and part of Benton Co. The region, with its sunny weather and abundant irrigation water, became a major orchard and farming area.
---
My name is Mike Sweeney and I am The USGenWeb Project Coordinator for Yakima County. If you would like to contribute information to this page, or have comments and suggestions, please let me know.
---
Yakima County Genealogy
Search the entire Yakima County site
---
Click for weather forecast
---
---

Mike Sweeney / Cottonwood, Arizona / sweeney2@wolfenet.com
Visitors since August 25, 1996 -
This page was last updated Friday, 09-Feb-2018 21:30:48 EST

All Rights Reserved.