Return to Extractions Index.
---
The Seattle Star, February 27, 1905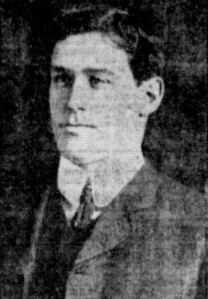 MAY COACH UNIVERSITY
O. F. Cutts, candidate for coach of the varsity football team, is a born football player, and probably one of the best known in the country. He first came into prominence at Bates college in Lewiston, Me., where he played for three years.
When Cutts entered Bates, football in that institution was in its infancy. He was one of the first to go onto the field and during the three years he was a tower of strength in every game. He is powerfully built, has always taken good care of himself and has never met a man who could worst him in a scrimmage.
On graduating from Bates, in 1896, he went to Haverford, Pa., where he taught mathematics, and here he first showed his wonderful ability as a coach. The team was most successful during his years with it.
In 1900, Cutts went to Harvard, but could not play football until he had been there one year. He was readily accepted on the team in 1901, and played all through the season as right tackle.
During his first year with the team, Harvard won from Pennsylvania by 33 to 0; from Yale by 22 to 0, and he was selected by Walter Camp as tackle on the all-American football team.
While in the Harvard law school, in 1902, he coached the Bates college team to victory and went to Purdue university, at LaFayette, Ind., in 1903 as coach. He was coach of the team which was in the awful wreck of October 31, when 17 students were killed and in which he lost some of his best players.*
Last season he consented to remain at Purdue as athletic director and took a green team into the field. So successful was he with them that Purdue won the championship of Indiana for the first time in ten years. During this season, his team defeated the Indiana university by a score of 27 to 0, and Notre Dame by a score of 36 to 0.
Mr. Cutts is now in the office of Harold Preston and intends to make Seattle his home.
---
* Note: Per Wikipedia, the
Purdue Wreck
was a railroad train collision in Indianapolis, Indiana, on October 31, 1903, that killed 17 people, including 14 players on the Purdue University football team. This is a very interesting event in history and worth checking out.