Mr. and Mrs. Michael E. TOLLAKSEN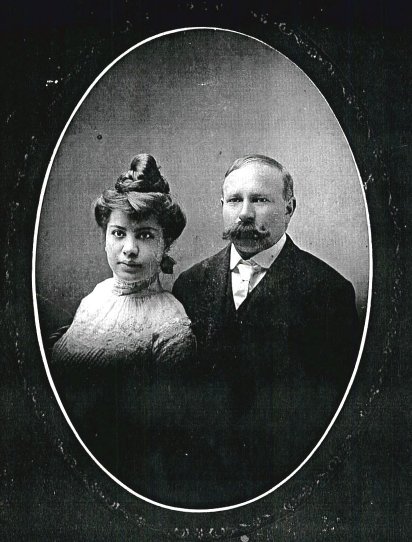 Michael E. TOLLAKSEN and Myrtle Lucretia BLISS were married June 30, 1902 in Seattle. Photo was taken by LOTHROP Bros., New Whatcom.

Myrtle BLISS was the daughter of Amos Goodwin BLISS and Josephine Hannah SHEPARD of Sutherland, Iowa.
Submitted by Colleen BOOSE
Michael E. TOLLAKSEN came to the state of Washington from Norway about 1885. As a teenager he had worked as a sailor on sailing ships. Later he worked in Alaskan fisheries and the timber industry until he got enough money to buy a 70 foot steam tug and start his own independent tug and towing business in Port Townsend and later Seattle. He was naturalized a U. S. citizen May 27, 1893 in Port Townsend. He met my grandmother, Myrtle Lucretia BLISS in the Seattle General Hospital where she was a nurse and where he was being treated for an injury. In 1900 she had come to Seattle to live with her aunt, Mrs. F. FARNSWORTH, from the Black Hills area of South Dakota where Myrtle had been teaching school. Myrtle was an orphan; her parents both died in Sutherland, Iowa when she was very young. My grandparents were married June 30, 1902 in Seattle and soon moved to Port Townsend. Later they returned to Seattle to live. They had two children; my father, Leslie Bliss TOLLAKSEN (born in Port Townsend April 13, 1903); and Marilyn Louise TOLLAKSEN (born in Seattle September 10, 1913). My grandparents are buried at the Mt. Pleasant Cemetery in Seattle. My grandfather died at age 61 of a heart attack in downtown Seattle on October 2, 1928. Grandmother died in Washington, D.C. June 5, 1961 where she had lived with my parents.
Duane M. TOLLAKSEN
Alexandria, Virginia