Pioneer Profiles 4
----------------------
Sketches of Candidates
-------------------------------
Short Biographies of Republican Nominees for County Offices
Submitted by Barbara Curtis
----------------------------------------------
The Sprague Times, Friday, Oct 14,1904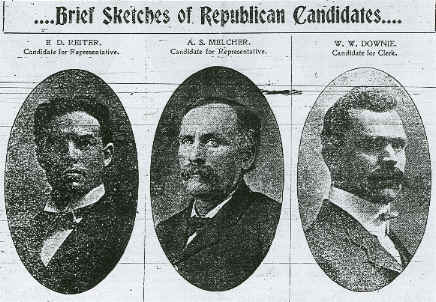 E. D. Reiter, republican candidate for representative was born on a farm near Green Springs, Seneca county, Ohio, October 22, 1877. His early education was received in the district schools. At the age of 14 years he began to teach in which occupation he continued for three years, attending at intervals the normal school at Valparaisa, Ind, in which institution he took the scientific course. Later he entered Heidelberg University at Tillin, Ohio, taking an elective course and reading law at the same time. In 1899 he married and soon afterward came to Davenport resuming the study of law under H. A. P. MYERS being admitted to practice May 19, 1900. On June 1 of the same year he opened an office and has since accumulated a good practice in his chosen profession. He is one of the young men who has by his own energy worked his way through college and the law without financial aid from anyone. Though born of staunch democratic parents Mr. Reiter, ever sinc3e he has taken any interest in politics has become a republican having taken the stump in Ohio in the interest of sound money and protection in the campaign of '96. The nomination for the legislature was only accepted by him upon the earnest solicitation of his friends, and the number of delegates to the county convention. He is an earnest advocate of a R. R. commission and will, if elected, work for that kind of legislation regardless of whom may be governor.
____________________
A. S. Melcher is a native of New York, having been born on a farm in Green county Jan 6, 1853, of German parentage. A year later his parents moved to Dodge county, Wis, and settled upon a timber farm and like "Honest Abe", young Melcher spent his youth in assisting his father in clearing up the place. His life, outside of school, was spent in the hardest kind of work, such as one can thoroughly understand who has been raised in a timber county. At this time he finished the common schools at home and taken a course in the high school at Hartford, Wis. He has a good understanding of mankind and is a thorough student of nature. Realizing that the west held out to a young man great possibilities, he emigrated to Oregon in 1877 and was married at Portland Mar 10, 1879, to Miss Mary Misner. In 1883 he moved to Lincoln county, then a part of Stevens county, in a prairie schooner. He had great faith in the resources of the country and has prospered here. He is a farmer by occupation, but has taught school during the winter for 30 years. In politics he has always been republican and his nomination was a case of the office seeking the man and not the man the office. Mr. Melcher is a man of excellent attainments. He has lived in this county for 22 years, known what we need and can be depended upon to use all honorable efforts in securing it. _____________________
W. W. Downie, our present clerk and the republican nominee for re-election, was born in Clayton county, Iowa, April 0, 1871, where he resided until six years ago. He received his education in the Des Moines public schools and afterward graduated from the Capital City Commercial college of that city. He came to this state in 1898 and entered the employ of what is now the Seattle Grain company in the capacity of grain buyer at Mohler. He soon became popular with his associates and made many friends in other part of the county. Two years ago he reluctantly accepted the nomination for county clerk and was elected by an overwhelming majority. During his term of public service he has been recognized as one of the most efficient and obliging officials that ever held office in this county. The people in general throughout the county realize that the election of Mr. Downie means two more years of excellent service and are satisfied to let well enough alone
________________________
Aaron Miller, (no photo) in his candidacy for county commissioner, should have the support of every voter, regardless of politics, in this part of the county. He has lived here long enough to learn by experience the many needs of the county and especially with regard to roads and bridges. His home is so situated that he is within easy reach of all the principal towns of this district. He has direct telephone connections with Sprague and Harrington and is equally handy to either the N. P. or G. N. railway. His geographical location could not be improved upon. Especially should his candidacy appeal to the people of Sprague which is his post office and trading point. It has been 14 years since a commissioner has been elected from within hailing distance of this city and the troubles of the past should move every man to the support of Mr. Miller. It is not necessary to deal with the personality of the candidate in this community. All know him to be a man of honesty good judgment and common sense and fully capable of rendering Lincoln County good service as one of its commissioners. The voters of Sprague should united in voting for this man who can and will do our community some good.
---
Page 4 of Pioneer Profiles of Lincoln County, Washington.
Submitted to the WAGenWeb by Barbara Curtis,
November 5, 2005. Used with permission.
=========================================================
USGENWEB NOTICE: In keeping with our policy of providing
free information on the Internet, data may be used by
non-commercial entities, as long as this message
remains on all copied material. These electronic
pages may NOT be reproduced in any format for profit
or for presentation by other persons or organizations.
Persons or organizations desiring to use this material
for purposes other than stated above must obtain the
written consent of the file contributor.
This file was contributed for use in the WAGenWeb.
==========================================================
© Copyright 2005 WAGenWeb