"Memories of a Pioneer ", by Eva Dell Moore
The Eva Dell Moore Family
Submitted by Kathy Meyer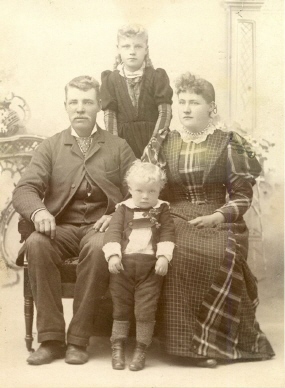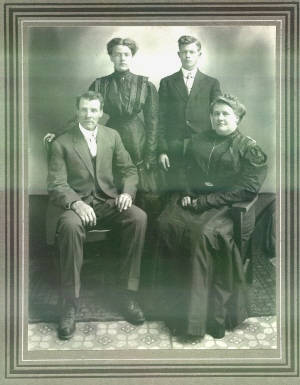 These two pictures are of my great-grandparents, Francis Marion and Eva Dell (Edwards) Moore, and their family. My great-grandfather went by F. Marion Moore, Marion F. Moore, or F. M. Moore, depending on his mood at the moment. His biography is one of those that can be found in the "An Illustrated History of the Big Bend Country" His father, GeorgeWashington Moore, is buried in the Spring Creek Cemetery. His mother, Emma (Knapp) Moore died in 1865 and is buried in Eliza Creek Cemetery, Mercer Co., IL. Information about the Moore family and a link to the Knapps can be found at: http://freepages.history.rootsweb.ancestry.com/~mygermanfamilies/Moore.html

Eva Dell (Edwards) Moore was born 13 July 1872 in Osawkie Co, KS. She died 25 June 1942 in Reardan. Her parents were Jane Foltz and Simpson Asbury Edwards. Jane was born in Ohio in 1853. Eva came west in 1882 in a covered wagon with her mother and step-father (Jeptha McLain). Before she died she wrote an account of the trip and the family's first years of farming near Spring Creek. The account is called "Memories of a Pioneer," which is now on the Lincoln County website
and can also be found in the Archives at Holland Library at Washington State University.

The two pictures of the Francis Marion Moore family show F.M., Eva, and their two children, Eva Dell and Alva Francis. I'm guessing that the first was taken in about 1895 and the second in about 1910. Eva Dell was born on 31 Aug 1888 in Reardan and died on 12 Aug 1962 in Spokane. She married Franklin Albert Evers on 5 June 1918 in Reardan. Frank was the son of Louisa Lucht (wife of William Fredrick Lucht) of Reardan. He was born 5 Nov. 1884 in North Dakota and died 4 Dec. 1926 in Davenport. Alva was born 20 June 1892 in Reardan and died in June of 1969 in Spokane. He married Vetrice Laurel Henry, also from the Reardan area. She was born on 20 June 1895 and died in February of 1974 in Spokane.


====================================================
Author Eva Dell Moore Family submitted to the
Lincoln County Washington GenWeb by
Kathryn Meyer, January 24, 2009.
=====================================================
USGENWEB NOTICE: In keeping with our policy of providing
free information on the Internet, data may be used by
non-commercial entities, as long as this message
remains on all copied material. These electronic
pages may NOT be reproduced in any format for profit
or for presentation by other persons or organizations.
Persons or organizations desiring to use this material
for purposes other than stated above must obtain the
written consent of the file contributor.
This file was contributed for use in the USGenWeb.
======================================================
© Copyright 2008 WAGenWeb