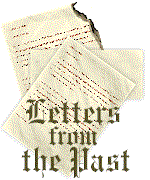 Here at long last are Pheobe's letters written after they had migrated to Washington territory. I don't believe she mentions any family names, but I think her description of WT (Washington Territory) gives a farmer's point of observation doesn't often make it into the histories -- price of goods, for instance-- are interesting to read.
Her health obviously wasn't too good for quite a while, but she lives a pretty long life.
Just a few facts about her: Phoebe Weeks was the 5th child of Joseph and Susanna Weeks. My gg grandfather was the 9th child. The entire family moved from Orange County NY in 1805 to Madison County, Indiana. Phoebe married a man who's last name was Sisson.In1856, she, a sister and family and a brother were in Mitchell County Iowa. Sometime around there I assume this Sisson fellow died. There must be some letters missing as the next one from Phoebe, they are in Kansas had she has married Josiah Cummings. That's in 1858.
It looks like in 1862 they leave Kansas for Washington territory, probably because of the civil war troubles. Kansas wasn't a really safe place to be. A letter while in Kansas writes she wishes she could convince Josiah to leave. Apparently, they did.
I've just included the letters written after they arrived in Washington Territory.
Alice Kreissler, Kansas
Wallula Cemetery, Walla Walla County, Washington
Josiah Cummings, b. Jun 27, 1804, d. May 24, 1874, Father
Phoebe Cummings, b. Sep, 1814, D. 1878, Mother

Walla Walla Washington Jan the 17th 1863
I take the opertunity to answer thy ki~and acceptible letter

which~cam to hand the last day of december which was read over and over again. I was so glad to hear f~ you. I also got a letter from Sister Susan and one from my sister in law at the same time I got yours. The first snow fell here on new years night it has been beautiful weather here nice and dry too dry for wheat from the time we came here untill the middle of december there was no wind blew here it was nice working weather. We have bought one hundred sixty acres of land and are to pay three hundred and sixty dollars. We live in the valley a mountain on each side of us. There is lots of Oregon people live here they say it is too damp in Oregon it rains all the time there in the fall and winter. Here is dry and healthy in the summer and fall. We have got a nice farm with plenty of good wood and water is close to the house. The river we now live on Tushe. We moved from where we wrote first about forty five miles. The river has lots of large fish in it. Josiah caught one the other day and it was a long as my arm. We have eleven chickens and one pig. The pig and two chickens were given me the other chickens we had to pay one dollar a piece. Eggs are one dollar a dozen. One of my daughters in law took 2 doz eggs to town and got eight yards of callico at 25 cents a yard. Now sister I want to know if Abram came Indiana and how much he got for his farm in Iowa and what he is going to do now- LwillieUlhee about this country. The farmers houses all dottied along the-rivefS~ They-have-BiG-e--fMms-and:Plen~of- c'" good time and mountains on each side. We have-1owherewe-can-lyedown-and sleep all night. When we was in Kansas there were lots of times that we got up and went out in the oats and com for fear of being killed and now dear sister I am not afraid here we have good neighbours but we have no meeting. I have not been to meeting since I was to Indiana but I used by good old Testament it is a good book. I left by bible with Mary Ann could not take it on account of having so much load; we had too heavy a load for our horses to come so far. We traveled about three thousand miles over mountains and through valJys. Oh what awful looking places we saw in corfsing the mountains. I saw some beautiful country and some awful country in crofsing the plains glad I am here and I wish all my dear bothers and sisters was here but that will never be, but I hope Mary Ann and Susan E. Cummings

and Abram will come.
The mines are all around us. I can see packers crofsing by nearly every day before this snow fell. Corn is 2 dollars a bushel potatoes two and a half a bushel butter one dollar a pound eggs one dollar a doz molafses 2 dollars a gallon sugar - per Ib salt 12 cent per Ib flour ten dollars per hundred (?) weight 5 dollars per hundred bacon 30 cents per pound. Now I must draw this to a close pretty soon as I want to send five letters with thi as we have to go twenty miles to the Post office. It is so warm here that we can sit wht the door open; the ground is not froze and Josiah is going to brke up his ground. Give my love to all of the Cockayne and Saray Lewis. Tell Sarah I sympathize with her. I want to know whether Elizabeth and Ann Cockayne are married and if any of Prissella Thomas as girls are married or if Lydia Tufsel or her sister are married. There were girls crofsed the plains when we did and they are all married. Give my love to MarthaLewis and to all the rest of my dear friends. Give my love to Brother Thomas and Charlotte and all the dear little children. Joniah joins me in love to you.
Elizabeth Simmonds Joshua Simmonds
Phebe W. Cummings Josiah Cummings
====================================================================
USGENWEB NOTICE: In keeping with our policy of providing
free information on the Internet, data may be used by
non-commercial entities, as long as this message
remains on all copied material. These electronic
pages may NOT be reproduced in any format for profit
or for presentation by other persons or organizations.
Persons or organizations desiring to use this material
for purposes other than stated above must obtain the
written consent of the file contributor.
This file was contributed for use in the USGenWeb.
===================================================================
© Copyright 2002 WAGenWeb

My Dear Sister I have written to you and have not receive no answer and I think it is time I had a letter form you. I am anxious to hear from you and all the rest of my dear mends. We heard you have had trouble their with the rebels. Hwe have peace hear and plenty of everything and above all the rest we have good health. I got a letter from Mary Ann the other day and she said they had trouble in Kansas. I hope these few lines will find you all well and all of my Dear Brothers and Sisters. I am drying tomato they are very good dryed. I have dried about one peck of elder berries. I wish you would have your likeness taken and send it to me in a letter. Oh how glad I would be to see it and Sister Susan likenesfs two Mary sed she would sen hers but it has not come yet. I have got Mary Ann and Joseph and Mary Ayis and Ei Babb, Joseph, Thomas, Abram and Benjamin Roggers. I look at them now and then. We sowed 2 acres of wheat and we have forty bushel it was down on sod ground and we had no rain hear this summer we have to go 20 miles to a mill it takes 2 days to go and come we milk 2 cows and have 3 hogs and 28 chickens and about all of them lays eggs. (top of paper torn. It may read: ''Prices are very high") (continues)
Butter I believe the are five shillings a dozen and five shilling a pound for butter. It hardly every rains hear but we have good crops. the mines are all around us and money is plenty we get money for our eggs and butter I sent 11 pounds of butter the other day to town and got the cash for it. I have maid one hundred and thirty five dolars sence the first of April and have not worked any harder then I did in Indiana. It cost us one hundred and fifty one dolars to live har a year. Sister the sammon is going up all the time they are so big they make as big a noise as a horse plunging in the water. I can hear them all day and night any time we live Close the river. Sister the old walsswafer clock is a keeping good time yet. I fetch that big trunk that I bought at Fathers sale with me acrofs the plains. Sister I want you to tell me what county Hannah Wilson lives in. we can go to bed hear with our door open and are not afraid there is pIety of Indians hear they come hear every day if you don't notise them they will go off. They don't buy nor steal much they are hard looking creatures they have their children lach to a board
(This is front and back of bottom half of other half of paper. The top half is missing)
I just went to the river and saw 2 large sammons three quarter of a yard long. I tell you they are big. Josiah says he will kill one with the pitch fork if I want one. I
believe I can kill one myself the Indians live on them. .
September the 28. I will comence my letter to finish it. I just receive a letter from Joseph W. Babb. They are all well. Mayr AIys sent her likenefs to me it was taken on a thick paper and sent (page torn) it is very nice (page torn)
Rite as soon as you get this for we are anxious to hear. No more at this time I remain thy Dear Sister with love to one and all I send my love to Martha Cocain and the girls rite all the news I like to hear.
My dear sister, I receive your acceptable letter which came to hand the 14 of May and was read with pleasure. We are all well as common and I hope these few lines will fmd you all well and all of my I Tiends, brothers and sisters. You wanted to know about the winter hear we have beautiful weather in the summer spring fall winter. Cattle all feed all winter hear and it don't cost us anything. This is the best country in the known world for cattle. There is plenty every year there is lotts of families come up ITom origu (Oregon?) to live hear for they say this is the best stock county they every saw we had lotts of rain last winter but very little snow we have rain in the spring but hardly ever have rain in summer but plenty of dew in the morning. I am a goin to tell you if my well I will tell you how big my stuff grows here in washington. I sold one hundred dollars worth of butter I Tom 2 cows in (paper tom) _monts ITom 3 cows. I have sold this spring over one hundred and forty pounds. Mary Kindley sent her likenefs to me in a letter. Sister Susan said she would send hers and Daniels. How glad I would be to see Susan and still glader if! could be ware we could talk to each other face to face and I would like to see you and your family and Brother Thomas and family and Brother Joseph and family. My dear sister I want you to send me some burdock seed mullin seed in your next letter. Put in a few seeds in a silk paper and sow them up and put them in your letter. Oh how thankful I would be for I want to make some streI!gthing plaster for my back and there is no such plants here. Every time you rite send some kind of seeds. Be shure and send burdock and mullin this time soon as (bottom of paper is tom) I want you some time to send me some tansy seed laverse seed rue seed worm wood seed penroil seed. I fetch catnip seed with me and it is over 2 feet high it is no sign of heading yet. I have onions ITom the seed. Big enough to eat. Every thing looks prosperous in this county. I am well pleased with this country for I have better health hear then I had in all my life. Last year we raised parsnips on (?) sod ground without any rain ITom 3 to four feet long and the biggest one was as big as my arm above my elbow. I expect to raise some large onions beets turnips and potatoes this year. Sister I have the nicest seller you ever saw for milk and butter. Our water is soft water we have a well and the water is as cold as ice water. Sister I will send you some good kind of elder berries they are as good as a grape. I dried a half a bushel last yer and they ware nice when they are ripe. They look blue and very sour. They make very good pies. We have apples trees peach trees tame carns in blossom tame rasbery. I wish you would send me strawberry. Some time when you do put one in the letter and it will get hear before it goes dry. Sister I rote to our cousin in pennsylvania when I rote to you last and I got a letter ITom her the same day. Her name is Sarah Sumfile. She has 5 children, 4 girls and one boy. Her boy is in the army, he is 22 years old. I am agoin to sell butter enough to by mea stove next year. I sold butter enough to by a cow beside our grocery and clothing and this year I am agoin to have me a stove and a rocking chair. Rocking chair cost 5 dolars the cheapest stove is high hear ITom :qfty to 60 dolars. I don't know what mine will cost. We have sent to origan for it. I must draw my few lines to a close so good by with love to you and finaily and BJ:'other Thomas and family. I send my love to Brother Thomas and family in which Josiah joins me I send my (bottom of past tom)
(This letter must be from Phebe Cummings to Elisabeth Simmonds)
My Dear Sister I receive you letter in lefs than a month after it was mailed. I was glad to hear that you ware all well and was sorrow to hear of Sister Susan sicknefs. I hope she is better before now. Your letter found me in better health. My cold is almost over. I am
now taking Doctor Motts Liver pills and I think they will cure me. We have got almost all our grain but our oats is very good. We had 4 acres in oats and we got 2 hundred and thirty one dozen (paper tom) our wheet will turn of forty bushel to the acres. Our
potatoes are very nice and large 2 hills will week. Cabbage looks well.
Com looks fine (paper tom) ? Onions from the seed is large as a top of a teacup (paper tom) - is a good com Country and good for every (paper tom) growing vegable without eny rain in the summer. We have rain and snow in the winter and frost prety much every month in a year but not enough to hurt anything. We can see the leaves tuch a little with the frost. we have about 6 tun of Timothy and wile clover hay put up in good order for our cattle for winter. Some people dont provide eny thing for their stock but we want plenty of everything and if we don't need it we can sell to the packers at the highest price. We have plenty of old com on hands yet and plenty of old wheet and expect always to have plenty wile we live and I have one gallen of goosberys dun up for perserves in shugar and rasberys persrve and now I will commence making elder berries jelly. It is as good a grapes we live as well as I want too. Oh we will have ten bushels of tomato and I want to dry half a bushel and do up one or two gallons in perserve and I want to dry one bushel of sweet com Early I have a good kind of early beans. We have about 50 chickens and 9 heads of hogs 2 milk cows three hefers 2 calves 1 three year old steer. We will beaf him this fall he is rounding fat now. Cattle gets almost to fat to eat in this country. Our sucking calves is fat. We are tolerable well for old people able to eat our regular meals. I hope these few lines will find you all in good health. Tell me sister what is the cause of James and the Girls selling their home. Are they in debt. I always like to hear what is goin on in that part of the country. How many girls has (?) proeila Thomas got. If the girls war in this country they would marry. Every young woman to come hear they are married before the year is out and do well. There is lotts of men hear that wants wives in this country. Is Ann Thomas living. I have sent Lucinda Harden my
potograph. Tell Marium Tilson to try cold oil for the rhumatism. But it on at night before goin to bed till it cures. what has become of Hannah Wilson. How is every body getting along that I am acquaintance with. I like to hear about everybody. How is Mary Kindly or Shoemaker get along. How does Elisabeth and Ann and James get along. I send my love to them. And would be pleased to get a letter from them and also from Marium Tilson and Lucinda Warden. I would like to hear from Rachel Simmonds how she is getting along. I am hear all alone and I like to hear from Indiana. I have sent 20 potograph to our mends, Josiah folks and mine. I must draw my lines to a close And bid you all farewell with love to you in which Josiah joins me. Josiah thinks a great deal of Sister Elisabeth and he talks a good deal of Rein to John Harden ware they had to many grapes pears trees and everything else. I would like to make a visit back to Indiana And go and see all myoid associate and have a long chat about Washington Territory. Sister
you can tell me more than I can you. Good by my Dear Sister everybody say you and I look alike. Rite when ever you can.
Phebe W. Cummings

My dear sister I have rote to letters to you and have got no answer nary one one of us is well. I have bin very sick and are just able to do my work with Josiah help. I had the (?) newralgy in my head very bad and had a fluttering at my heart so I would almost faint
away But I am better Josiah is failing very fast. Josiah and me both have a cough. Josiah has by spells a very bad pain at the pit of his stomach when it comes on he is awful bad. I hope these few lines will find you all well and doin well. Have you redeem your place back. I heard by Mary Ann letter that you had sold you farm and Sarah Lewis rote that you war tryin to get it back. Tell me all that you have bin do in. It make my shoulders ache to rite and now I will tell you we have had considerable snow in the mountains now it is melting off and the river is high and all the streams. We have got in some garden our grain is up and looks beautiful. We have cows 4 head of horse 2 yearling 3 calves 2 pigs that will weigh 2 hundred and 30 a peace and they are not one year old yet. We have 60 chickens one cat toney one dog curly. Curly will help fetch the cow up. He will go a half a mile by his self and bring up the cows. Sister tell me how sister Susan is getting along and how does Mary and her husband get along. Sister Susan has not rote to me for 2
years. I believe anyhow not since Mary was married. I would like to hear ftom you and Sister two and Mary Shoemaker and all the rest. Give my love to Sarah Elisabeth and Ann. Oh how I would like to see you once more but we are a long ways seperated apart. When I was sick I thought if I would see dear Sister Elisabeth or Susan or Mary Ann it would almost cured me. I wished for some of Brother Josephs medison. If Joseph was hear he could be independent rich in a year or two if he charged like other doctors do. I did not have any doctor. I am a ftaid of them. I doctored my self and it seem prety hard to be sick in a country ware doctors are for no one else by their selves. They all give calomel or strong stuff their was a woman got some medison of a doctor and she took it and it killed her dead. Who is married that I knew it is interesting to hear ftom Indiana how people is getting along. My dear sister what is good for the fluttering of the heart or newralgy. Rite me a long letter dear sister. I feel it a comin on I must quit riting and rest a little. I will commence again. Elisabeth you and Joshua was so well fixked you ought
not to sold and are getting old. You are in a good settlement and you may not get eny war you like as we as you did that place. If we live and have our health for 2 or three years we expect to leave this country and go to Californa ware it is thicker settlement. We can count 8 dwelling houses in site of our place. We have a nice large (?) school house large enough for meeting house. It does for both. Josiah is hoing in the garden. Among our shrubery we have tame goosbery as large as a plum tame CUffS, tame blackberfs tame rasbery, tame peach trees, some maple trees raised ftom the seed there is plenty of apples and peaches in this country. There is plenty of oregans people moving in our country. They like Washington the best. It rains 6 months out ofa year in Oregan. How old is Rachel Simmonds oldest sone and youngest child. How many children has she got. It hurts me to read rite sew and knit at my stomach. I wish I had a girl that was big enough to do my work. I had a little girl by the name of Ellie 2 or three weeks when I was sick. She wanted to live with me but her parents could not spar her. she was the
My dear Sister it has bin a few weeks since I receive a letter ITom you and it found us all tolerable well. I am a good deal better than I was when I rote to you last. Amos and family arive hear the 26 of August and they did not come to soon for I was very feeble not able to do anything. Susan E has three Children 2 girls and a boy. The oldest one is five in April nex Alis is 2 years and 3 months. The Babe is three weeks old yesterday and it is named after her father and.his father. Dident eny of our people come with them. They had a prety hard time coming acrofs the plains. The Indians ware very hostile when they got hear they war very tired. They had forty cents in money. They brought a orphan girl with them. She was give to Susan she is 15 nex spring. She is prety smart girl to work Josiah and Amos and Carry has gone to meeting. The school house is sight of our house. It has rained for 2 or three weeks and the river is raising. We have not had eny snow this winter yet all rain warm at that the grafs looks green. Sister I got those seeds you send me but I have not sown them yet. I am very much oblige to thee for sending them.
Sister I don't do eny thing only patch my cloths and make my bed and I am thankful that I can do that and walk around and eat to the table. Sister I can't eay eny thing but bread and butter and little shugar and drink cold watter. If! eat cabbage or potatoes or turnips or eny thing but graham bread I have to lay a bead two or three days. I have pains in my
tiSt and ankels and they get very hot and it finely runs all over me. I think salt and water help me and I bathe in it frequently with it. They are all gon to meeting tonight but me and the baby so I thought I would finish my letter. The baby's a crying and I draw my few lines to a close. I say good by dear sister and brother. Kiss the little girl for me. I send my love to you both in which Josiah joins me Susan and Amos sends their love to all of you. Rite soon don't forget me.
====================================================================
USGENWEB NOTICE: In keeping with our policy of providing
free information on the Internet, data may be used by
non-commercial entities, as long as this message
remains on all copied material. These electronic
pages may NOT be reproduced in any format for profit
or for presentation by other persons or organizations.
Persons or organizations desiring to use this material
for purposes other than stated above must obtain the
written consent of the file contributor.
This file was contributed for use in the USGenWeb.
===================================================================
© Copyright 2002 WAGenWeb
My dear Niece, I receive thy letter a few days a goe and was glad to hear from you once more and also glad to hear that I was a goin to get the rest of the children likeness and also glad to hear that your Mother was stout and hardy. You did not say much about your father. I would like to know what he is a doin. I am well and so is Josiah and Emma. We are all well and I hope these few lines will find you all the same blefsing. There is nothing in this world like health. I have bin sick 2 years the first day of February. I am now well except I have the colic every time I get my hands and feet cold and so you see I have to be very carfuL I cant stand eny hard work. I have to take care of my self like a baby. It is a greate satisfaction to get letters from my dear friends and relation. I thank the lord for his goodnefs and kindnefs toward me to spare my life a little longer. I heard by thy uncle Thomas that they had another child to provide for. I think they have anough little ones to take care of. We have had a very nice winter. It looks like spring all winter. We are milking three cows. If our cows do well we will milk 7. We have lost three since
we came hear and I wont have calves this summer so I think seven will do very well for
your uncle is not able to do much he is 65 in June the 27. I will be 55 on September the 13. I can't milk nor wash cloths nor churn nor roal out doe to bake pies or buiscuit.
Emma Jane Wilmat is 14 in June. She does all the hard work and helps Josiah out doors. She is a very smart girl. But I don't know how long I can keep her. she has a sister
married I am afraid they will take her away ITom me but I hope they will not. Sarah Ann those peaces are very nice. I hope you will not forget to answer all my letters and rite all the news that will be interesting to me. I am happy always to get a letter from you dear niece. I would like to get a letter ITom Elizabeth Jane to see how good she could rite. Sarah Ann you improve in riting. I must stop for the presant and get dinner. Emma is peacin a quilt and studies her book. She read rites and syphers and spells and she can do a great many little notion. We hd a nice winter but very little snow warm as spring. Cattle live out all winter. Rite soon. Direct your letters to Delta Post Office Walla Walla WT.
So no more at present, but remain thy Aunt Phebe W Cummings
Sarah Ann Weeks
I send my love to your Father and Mother and to you and thy dear Sisters
am very much oblige for those pieces like your drefsed and
My dear Niece I take my pen to inform you that we tolerable well for old people and I hope these few lines will find you and your father and Mother sisters all well. We have sold our ranch and moved down on the Walla Walla River. Thought I would tell you so you would know ware to direct a letter two. It is very warm weather at this time pretty dry this spring. I am aftaid it will be two dry to raise much. I am now doin my own work but feel very weak at times and are bothered with the dirhea about every month. I have to be carful what I eat or drink. Cold wather don't agree with me a tall. I drink coffey every morning for breatkfast eat graham bread is my living mostly. We live close to Gideon Cummings Josiah sone. It tires me to rite Sarah Ann you must rite two or three letters to my one for I am old and you are young. It would do me good to hear from you often or see you. The rail road will soon get through so people can travel on it. We milk 2 cows and sell a little butter. Butter is 50 cts a pound at this time, 25 a dosen for eggs. I don't have much work to do only cook and eat and feed my chickens gether
my eggs. I have 2 dosen hens 21 little chickens one cat one dog. I am some lonesom since I left our old place but we live close to the road ware teams travel all day. The stage passes along. I wish I was well like I was once and I would feel better satisfied we have us a nice little spring waggon to ride in. how I would like to take a ride this evening and take tea with Brother and dear Sister. I cant think of much to rite this time. I will send you a peace of my new drefs I got a few weeks ago the callico is maid up and wore the other is not done yet. Good by with love to you all in which Uncle Josiah joins me. Rite soon don't forget me
Direct your letter to Wallula post office
Walla Walla Washington Territory
Remember my My children dear Remembers you are very near
It has bin a long time since I saw you And I hope you are very true
And rite to your dear old aunt
====================================================================
USGENWEB NOTICE: In keeping with our policy of providing
free information on the Internet, data may be used by
non-commercial entities, as long as this message
remains on all copied material. These electronic
pages may NOT be reproduced in any format for profit
or for presentation by other persons or organizations.
Persons or organizations desiring to use this material
for purposes other than stated above must obtain the
written consent of the file contributor.
This file was contributed for use in the USGenWeb.
===================================================================
© Copyright 2005 WAGenWeb