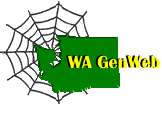 LEGAl News 0f Lincoln County, Washington
submitted by barbara Curtis
---
---
Page 3. Listed chronologically by the date item was published in the newspaper
---
DIVORCE GRANTED
Lincoln County Times, May 10, 1907
A decree of divorce...last Friday to Mary Donaldson...John Donaldson on the...desertion and non support. Mrs. Donaldson was ...custody of the minor child and month(ly) for its support. ( partly missing)
--------------------------
A SUIT FOR DIVORCE
O. M. Thomason has ...an action in this county...from Martha Blache Thomason...complaint states that they...in Kansas in December and that they have ever...together as man and wife....his wife with infidelity...granted the custody ...their minor child, a boy, who is now with his mother in Kansas, whom he alleges is not proper person to have ...control of said child.
---
CARDWELL FOUND GUILTY
Lincoln County Times 1911
Al Cardwell, who has been on trial in the Superior court here for the last four days charged with horse stealing, was found guilty by the jury Thursday afternoon after deliberating two hours and a half. Cardwell, whom it was alleged stole several horses from the Judge Jackson Brock pasture south of this city, was arrested Wednesday, April 19, by Sheriff W. B. Brockman, after the sheriff and his deputies had traced him from the Brock place to the Lake Creek country, from there to Ritzville and later to Echo, Ore. He was first let out on $5,000 bail, but later re-arrested on an improved warrant and again released upon a bond furnished by J. F. Doran of Ritzville. Dave King and George Gray, the latter now being under sentence in the state penitentiary at Walla Walla, were arrested as accomplices in the theft, Gray being brought here as a witness in the cases but he was granted a separate trial and returned to the pen.
---
MCNALL WINS CASE
Lincoln County Times, Feb 08, 1918
The supreme court at Olympia affirmed the trial court this week in the Lincoln county case of W. A. McNall against Amanda Sandygren. The woman leased land to McNall on the crop payment plan and agreed to build some structures but did not do so. He held out part of the crops as a result. She sued for $1051 and got judgment for $151 and appealed.
---
FIND RAY HAIGHT GUILTY
Lincoln County Times, Mar 01, 1918
The case of State versus Ray and Anna Haight, who were charged with grand larceny involving the stealing of a set of furs valued at $150 from the Mason's hall in Sprague in December last and belonging to Miss V. M. Shearer, came to an end last evening before Judge Jos. Sessions, when the jury returned a verdict of guilty against the defendants. The couple, who plead not guilty at a preliminary hearing before Justice of the Peace T. V. Reed of Sprague on December 27th, were released on $250 cash bond and bound over for a jury trial in superior court here. Several witnesses were called and identified the furs found at the Haight home as being the same as those which were lost at the Mason's hall. The defendants pleaded that the furs were taken in mistake and with no intention to steal.
---
NEWS FROM COUNTY SEAT
The Sprague Advocate Nov 10, 1921
Davenport, Wash., Nov 7th, 1921
The entire day last Monday was taken up with the case of Cornelius Bonthius against Lucy Bonthius, and there were about a dozen witnesses used in the case. About two years ago Cornelius Bonthius obtained a divorce from Lucy Bonthius by default, the latter not appearing, as she claimed that Mr. Bontius had claimed in the presence of three witnesses that as soon as she had a home in which she could support their only child that he would release the child to her.....sorry, the rest is unreadable...
---
DISMISS SUIT MONDAY
The Times-Tribune, Davenport, Jul 19, 1923
The case of the People's Trust and Savings bank of Chicago against Andrew and Nellie Hookom was dismissed by court order Monday, having been settled by stipulation between both parties.
----------------------------
TRUST FUND GIVEN JUDGMENT
The Alliance Trust company was given judgment for $5, 761.66 and $250 attorney fees, Friday, in its suit against A. J. Hamp and others. This was a foreclosure suit.
---
LENIENCY IS GRANTED
The Sprague Advocate Jan 03, 1935
Steve Reitner, operator of a small ranch near Odessa, who was arrested last week by Sheriff Lew Hutsell for illegal possession of whiskey was released and the whiskey confiscated when it was made known his services were required for the cared of his aged mother who had been an invalid for several years and makes her home with him.
----------------------------
CASES DISPOSED OF IN DECEMBER COURT HERE
Justice Eugene Goodwater reports four actions recorded in his court during December as follows: (we have 3)
December 15-Harry Scheuss charged with drunken and disorderly conduct and fined $10 and costs.
December 17- In an action in which W. B. Buckley, plaintiff, sought recovery of tools from Joe McCaffery, defendant, the case was settled out of court.
December 17- Luther Richardson charged with being drunk and disorderly was fined $100 and costs.
---
CASE IS DISMISSED
The Davenport Times-Tribune, September 28, 1939
An order of dismissal of the case of Margaret H. Hayes against Keith and Katherine Michael was signed in the superior court here last Thursday, the matter having been settled out of court. The plaintiff sought a writ of restitution for land near Davenport, in this matter.
------------------------------
BROUGHT TO COUNTY JAIL
Sheriff Charles E. McCaffery went to Sprague last Thursday afternoon and brought Curtiz Dawertz of that city to the county jail here to serve 30 days and a $10,00 and costs fine, given him by Justice W. R. Lee of Sprague. Daweritz was arrested by Marshal Joe Monogham on a charge of disorderly conduct.
------------------------------
JUDGMENT IN NOTE SUIT
A judgment for $219.75 and $50 attorney's fee was given the Bonded Adjustment company in the superior court here yesterday in an action against E. E. Warren. This was a suit over a note.
------------------------------
REPORTS ROBBERY IN SPOKANE
Richar Zeimer, Sprague farmer, reported to Spokane police Monday that as he was about to pay for a purchase in a downtown store in that city, he laid his wallet on a counter and turned around for a moment. The purse and contents had disappeared when he looked for it again. There was $46 in the purse.
-------------------------------
FILE ACTION OVER NOTE
The Richardson-Monks Hardware company filed an action in the superior court here Tuesday against Lloyd Glassford, seeking to recover $150 for a promissory note.
---
FILES SUIT FOR DIVORCE
The Davenport Times-Tribune, October 05, 1939
A suit for divorce was filed in the superior court here Monday by Marjorie LeMay of Wilbur against Guy C. LeMay, whom she married at Coeur d'Alene, Idaho., in May 1932. She charges he has been cruel to her. She asks the custody of their three minor children.
---
CASE IS DISMISSED
The Davenport Times-Tribune, October 12, 1939
An order of dismissal of the case of Walter W. and Alice M. Jones against the Phoenix Mutual Life Insurance company and others was signed in the superior court here Tuesday. Tee case was settled out of court by stipulation.
------------------------
FINAL DIVORCE DECREE
John Cole, Davenport farmer, was granted a final decree of divorce from Anna L. Cole in the superior court here Tuesday. He was granted an interlocutory decree April 7 last.
-------------------------
NAME THREE APPRAISERS
H. A. Thompson of Davenport, and John D. Williams and J. R. Wynecoop of Mondovi have been named to appraise the estate of Emilie Krupke.
-------------------------
RETURN FOR SALE OF LAND
An amended return for the sale of three quarters of a section of land, part of the estate of Anna Scheller of Odessa, was filed with the county clerk here Thursday. Originally Ed. F. Wahl bid $13,1098 for this land, but Robert Hoefel raised
this bid to $14,510, and the amended return recommends to the court that this bid be expected.
--------------------------
FINED FOR BEING DRUNK
Edwin Conwell, employed at Lincoln, was arrested Saturday afternoon by Sheriff Charles E. McCaffery, after Conwell had created some trouble down-town here, and was going about the streets in an alleged drunken condition. He plead guilty to a drunk and disorderly charge when arraigned in the justice court here Sunday morning, and was fined $5.00 and costs.
---------------------------
COLLISON IN DAVENPORT
As John Pebles, chief of police here, was making a left turn with his car at the intersection of Morgan and Harker streets in this city, a car driven by W. C. Cleghorn of Nespelem ran into the rear of the Davenport man's machine. No one was injured, but the Pebles care was damaged to the extent of $10, and the other car $45.00.
---------------------------
GIVEN JAIL SENTENCES
Dewey Bise and Kelly Bise of Coulee City and Everett Schultz of Hartline plead guilty in the superior court here Tuesday afternoon to an information charging them with petit larcency which Prosecuting Attorney Howard E. Philips filed against them Monday. They were charged with stealing $18.00 from the Carolus Implement company at Almira, October 2. Judge W. N. Nevinsk sentenced each to serve 60 days in the county jail, and suspended the sentence of Schultz after a group of Hartline citizens testified as to his previous good craracter. The sentence of the Bise brothers is to begin as of Oct 4, when they were arrested here. They were taken into custody by Night Marshal Robert Stewart, who had been asked to look for them, and were turned over to the Sheriff's force. (spelling errors left "as is")
--------------------------------
JAILED ON THEFT CHARGES
A traveling magazine salesman giving his name as Tommy Owens was arrested at Odessa Tuesday afternoon and was turned over to Sheriff Charles E. McCaffery, who brought hi to the county jail here. Owens is charged with stealing $6.00 from Father Fleck of Harrington. It is alleged Father Fleck purchased a magazine subscription from the youth, who later returned to the priest's home and sole money which he had noticed while at the place.
---
These items submitted by Barbara Curtis and typed by Rella Gleaton, "as is". Used with permission.
Thank you Barbara.....
This page last updated February 5, 2010.
====================================================================
USGENWEB NOTICE: In keeping with our policy of providing
free information on the Internet, data may be used by
non-commercial entities, as long as this message
remains on all copied material. These electronic
pages may NOT be reproduced in any format for profit
or for presentation by other persons or organizations.
Persons or organizations desiring to use this material
for purposes other than stated above must obtain the
written consent of the file contributor.
This file was contributed for use in the USGenWeb.
===================================================================
© Copyright 2008 WAGenWeb