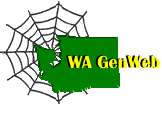 LEGAl News 0f Lincoln County, Washington
Submitted by Barbara Curtis
---
---
Page 2. Listed chronologically by the date item was published in the newspaper
---
COURT AGENDA
The Sprague Advocate, Dec 02, 1904
Thompson vs Bennet, Dec 14. This is a case of long standing, being a quarrel between a brother and sister over the ownership of a farm.
H. N. Martin vs Sheriffd Inkster, Dec 15, suit to recover attached property valued at $500.
Buchanan vs Labor and Worby, Dec 17, suit for collection on a thresher outfit.
Bell City Manufacturing company vs Schmit, suit to collect for machinery sold September 19.
Green vs Brooke, Dec 19, civil suit.
Cox vs Chicago Portrai company, Dec 20, suit for salary.
---
JAHNS ASKS NEW TRIAL
The Sprague Advocate, March 04, 1910
Wm F. Jahns alias Jas. A. Logan, the man convicted of murdering his house keeper and burning her body in a fire in the woods near Colville is preparing an appeal for a new trail. Jahns says Mrs. Janson the supposed defunct house keeper is alive and that he will produce her. He claims she left his home as per schedule and that she left so much truck behind, that in preparing it for shipment to her he became disgusted and burned part of it. Mrs. Janson's husband was a doctor he claims and she had an old skeleton of his which furnished the bones found in the fire. The other refuse came from old corsets and other belongings of Mrs. Janson's which he burned to get rid of them. The story is plausible and the old man may be innocent but the prospects are not the best. *
---
HAMLEYS DIVORCED
The Sprague Advocate, July 14, 1911
Following is a copy of the divorce decree issued to the Hamleys last week by Judge Hinkle of Spokane.
"It is hereby ordered, adjudged and decreed, and this does order, adjudge and decree.
1. That the bonds of matrimony existing between plaintiff and defendant be dissolved and held for naught.
2. That defendant Eugene C. Hamley be and hereby is awarded the care, custody and control of said minor child Eugene Crane Hamley, said child to be kept at the place of residence of the parents of said defendant of Sprague, Lincoln County Washington, and the right is given to said plaintiff May Crane Hamley to visit said child at said place at any and all reasonable times until further order of court.
3. That each of said parties is hereby prohibited from contracting marriage with any third party within six months from the date hereof. That one hundred dollars be allowed plaintiff as alimony payable fifty dollars on this date and fifty dollars on July 1, 1911, and that plainftff have Judgement for fifty dollars as court costs herein.
Done in open court this 3rd day of June 1911." Signed J. D. Hinkle, Judge.
---
COURT HOUSE NEWS
The Lincoln County Times, Davenport, Wash, Fri., Nov 06, 1914
JOHN H. MORGAN of Harrington, has filed suit against Mr. and Mrs. J. T. LUPER to collect notes aggregating $490.
The Odessa Mercantile Company of Odessa, has filed suits against Mr. and Mrs. L. D. JENKS to collect notes aggregating $561.77.
A petition has been filed asking for letters of administration upon the estate of L. W., SHREWSBURY of Almira.
MERCY MOSCONI of Sprague, has filed a petition for the taking into custody of her daughter, LOIS MILLER< whom the petition set forth is incorrigible and a delinquent.
Marriage licenses have been issued to JAMES K. PAUL and EMMA THOMAS of Davenport, W. C. MARSHALL and ARTA LYNN of Peach, FRED ROGERS and CELESTE BEEMAN of Mondovi.
---
COURT HOUSE NEWS
The Lincoln County Times, Davenport, Wash, Fri., Nov 13, 1914
Marriage licenses were issued during the week as follows: JOSEPH N. KUNZ (32) of Wilbur and FLORENCE L. BODGER of Keller; AMOS DAVID and IDA VANHORN of Davenport; THEODORE EVERS(23) of Almira and MARY A. CAMPBELL (23) of Morton, Idaho.
-----------------------------------
A petition asking that she be appointed administrator of the estate of her deceased husband, F. W. WILKE, has been filed by ZORA WILKE. A. ROBERT FRANSEEN asks to be appointed administrator of the estate of CAROLINA H. FRANSEEN and BEN APPEL would become administrator of the estate of his late wife, ANNIE APPEL.
------------------------
ANDREW DAHL of Creston was committed to the sate hospital for the insane this week.
------------------------
Prosecutor JAMES FREECE has filed an information charging L. J. MARTIN with receiving stolen animals from JAMES NEE and WM. THORNBERG and upon arraignment Martin plead not guilty. Witnesses endorsed upon the information are J. H. ROBERTSON, JOHN SMITH, JAMES NEE, WM. THORNBERG, W. B.
BROCKMAN, E. E. PHILLIPS, H. L. CAMPBELL, Mr. UPCHURH and Mr. GARRY.
-------------------------
HARRY BRESSLER is charged with first degree assault in an information filed by Prosecutor FREECE. The assault is alleged to have been committed upon SARAH RIEGLER, whom Bressler threatened with a gun. Witnesses are JOHN RIEGLER, JOSIAH COLE, SAMUEL MEYER, W. B. BROCKMAN, E. E. PHILLIPS and H. L. CAMPBELL.
------------------------
ORDER TO SHOW CAUSE
In the Superior Court of the State of Washington, in an for the County of Lincoln.
In the matter of the guardianship of ELLEN MOYLAN, MARGARET MOYLAN and TERESA MOYLAN, minors.
IT being made to appear to the court from the petition of Mary Decker, guardian of Ellen, Margaret and Teresa, minors filed herein on this 10th day of November 1914, that is is necessary to sell certain real estate belonging to the said minors for the purposes of their education, support and maintenance.....Section one township, twenty-five north, range thirty-five E. W. M.; section thirty five township twenty six north, range thirty five in Lincoln County, Washington.......JOSEPH SESSIONS, Judge
.
---
COURT HOUSE NEWS
The Lincoln County Times, Davenport, Wash, November 20, 1914
James Powers, Jr. has filed a petition for letters of administration of the estate of his father, James Powers, Sr. The petition shows personal property of a value or $1,000.
The Spokane Merchants Association through its attorney, has secured a default judgment against Mr. and Mrs. A. McGowan, now of Puyallup on a note given the Farmers' store for &19.75. The judgement allows interest at 10 per cent and $15 attorneys fees.
George Whiteside of Edwall, convicted last week of the unlawful sale of intoxicating liquors, has filed a motion for a new trial.
Marriage licenses have been granted during the week to Samuel R. Blair (20) of Almira and Lela White (17) of Wilbur; E. E. Anderson and Virgie Reams of Sprague; Conrad Mar (22) and Emilie Kling (18), both of Odessa.
A list of jurors to report for court duty December 7 was drawn this weeks as follows: Geo. V. Eichenauer, Downs; G. R. Wilson, Otto Timm, Harrington; Jacob Ott, Irby; Conrad C. Schaefer, Packard; J. Edgar Williams, Mohler; Sam Thorsland, S. F. Brislawn, Sprague; R. L. Green, G. H. Nass, H. Mitchell, F. J. Guth, Odessa; John Stirn, Waukon; C. M. Sprinkle, Christ Zemantz, Mondovi; J. I. Hinkley, W. J. Schafer, Edwall; L. A. Cone, Otto Gessler, Reardan; J. T. Lyse, Alice McCann, G. T. Belknap, W. Ahlf, Fred Zuehlke, E. H. Waring, Davenport; Moses Humphreys, Tipso; James Jennings, W. H. Hink, Thomas Magee, Karl Bergen, Ed B. Hope, Wilbur; T. A. Bise, J. C. Bender, Edw. Murbach, Govan; Geo. Alderson, James T. Jump, Creston.
---
COURT HOUSE NEWS
The Lincoln County Times, Davenport, Wash, Fri., November 27, 1914
GEO. H. Dodd of Creston asks a judgment against B. F. STEFFEY for $142. 71 with attorney's fees on a note given the Creston State bank of which he is now the owner.
J. G. TATE, local fuel dealer, has filed a transcript of judgment from justice court and petitioned for writ of attachment against M. F. ANDERSON in an endeavor to collect $103.55 he alleges due him for coal sold Anderson.
V. HERTICK of Sprague has filed suit against OSCAR WHITE and others trying to collect on a note given for $197.14.
C. T. PICKLE has filed suit against W. H. RAGEN, CORTEZ BROWN and GEORGE KRUGER in an attempt to collect $800 alleged due them as bondsmen in an attachment proceeding.
R. M. PICKLE has filed suit against M. FLOHR alleging he assaulted him with a monkey wrench in Wilbur and asks damages of $10, 085.
A petition for the appointment of a guardian for JAMES, JOSEPH and ALICE SHIELDS, minors, was filed in the clerk's office this week.
SHERMAN HESS, son, has filed a petition for the probate of the will of his mother, SAVANNAH M. C. HESS.
The case against GEORGE GRAY, who was charged with grand larceny, was completed Thursday night of last week when the jury brought a verdict of guilty and Gray was sentenced to fro ten to fifteen years in the state penitentiary where he was taken Saturday by a traveling guard. The trial of the case cost the county $622.30 which will be recovered from the state because of the fact that a conviction was secured.
Friday and Saturday was spent trying the case of CLARENCE JAYNE against DR. R. P. MOORE for damages because of alleged failure to set a broken limb right and resulted in a hung jury.
Monday and Tuesday the trail of HANS JETTER, charged with burglary, was tried and the jury brought in a verdict acquitting the defendant.
-------------------------------------------------------------
COURT HOUSE NEWS
The Lincoln County Times, Davenport, Wash, Fri., November 27, 1914
Marriage licenses have been granted during the past week to ELMER KNACK and ELIZABETH J. BAKENHUS, both of Rocklyn; GEO. M. HARRES and MARY SHOEMAKER, both of Reardan.
The Bank of Edwall has filed suit against HENRY VOSS and wife to collect on a note for $420 issued to Mitchell, Lewis and Staver Co. of Spokane.
C. R. PETREE has filed a notice and complaint together with transcript of judgment from justice court to collect on a note alleged to have given given him by ALEXANDER MCGOWAN.
Dr. E. C. HAMLEY of Sprague has filed suit against WM J. LYNCH and wife to collect $209. 25 he claims due for professional services rendered.
GEO. H. DODD of Creston asks a judgment against B. F. STEFFEY for $142.71 with attorney's fees on a note given the Creston State bank of which he is now owner.
---
NEWS FROM COUNTY SEAT
The Sprague Advocate, Davenport, Wash., Oct 6, 1921
The Harrington Garage has obtained a default judgment against Alice Brown for $118.63 and $19.00 costs, on account goods and wares obtained from plaintiff by defendant.
The Harrington Lumber Company has filed suit against Wm H. McNew on three counts, two notes and an open account, totaling $767. 60 and $25.00 attorney's fees.
Margaret Joss has asked that she be appointed the administratrix of the last will and testament of Alexander Joss, who died April 21, 19121 leaving real estate valued at about $18,000.00 personal property of the value of $1,000.00 and case in the bank amounting to $5,000.00.
Decree of settlement of the final account in the matter of thee estate of Rachel O'Donnel, deceased was filed last Friday by Freece and Pettijohn, attorneys in the case.
A Default Judgment was rendered last Saturday against O. U. Hawkins and wife for the sum of $865 principal and $161.18 interest, in favor of the Pacific Loan and Savings Association.
J. C. Hampton has filed a petition asking that letters of guardianship be issued in the matter of the person and estate of James H. Wassum, who is in the hospital for the insane, at Medical Lake and Oct. 18, 1921 is set as the date for hearing the petition.
A young man by the name of L. S. Karr of Downs and a Miss Belle Cecile of Spokane, were arrested last week and taken before Judge Basset of Harrington, charged with unlawful cohabitation, having registered at the Grand Hotel at Odessa as husband and wife.
---
FROM COUNTY SEAT
Davenport, Wash Dec 1921
John Campbell and Frank Hinton were arrested last week and an information charging them with grand larceny, alleging that they stole fifty dollars from Harrington Hardware Company.
E. E. Mayer has commenced suit against E. A. Rugg and Mollie Rugg, his wife, to collect $11, 550.00 and interest on mortgage that covers on West half of section 14 and East half of Section 15, all in township 22, North, of Range 334, E. E. M., and the same parties are involved in a suit for $3739.02 on a mortgage covering on the West half of Section 15, in the same township and range.
Margaret Leete has been appointed guardian for her son Dean Livingston Leete.
John Carter has sued W. H. Spencer and J. F. Arnold for the collection of three notes aggregating $1,000.00.
H. T. Vincent has obtained a default judgment against W. H. McNew in the sum of $524.50.
The last Will and Testament of Charles T. Emery has been filed in this court on a transcript from Grant County.
The persona. Bond for Herbert Dietrich, under which he was held for appearance under an information charging him with grand larceny, was changed to a cash bond for %500 for his appearance of April 1st 1922.
---
Culture Shock!!!...
The Odessa Record, April 12, 1935
"Martin (Sharkey) Thornburg, a Stevens County resident, pleaded guilty of using indecent language at Lincoln, March 29, when arraigned in justice court this week. He was given 30 days in jail, suspended, and $15 costs were assessed against him. P C Grimm, Lincoln merchant, made the complaint." (Odessa Record) Submitted by Marge Womach
---
COURT NEWS
The Davenport Times-Tribune, September 21, 1939
CARL OLSON, age 57, Spokane, was arrested about 1 a.m. Sunday on Morgan street in Davenport by Deputy Sheriff FRANK C. RAMBO on a drunken driving charge. The officer alleged OLSON backed out from the curb near Ross's Grocery, whirled his car across the street, narrowly missed hitting another car an several pedestrians. Olson plead guilty when arraigned in the justice court here Monday morning , and was fined $50 and costs, and his operator's license was revoked for a year.
------------------------
A transcript of the proceedings in the Case of IDA A. REAUGH, by HARRY REAUGH as guardian ad item, against CARL H. HOFFMAN, was brought into the Lincoln County superior court on a change of venue from the Spokane county court, upon request of the defendants who is a Lincoln county resident. The plaintiff seeks $3754.14 special damages and $2500 general damages for alleged injuries she sustained when a car in which she was riding, driven by her daughter, Mrs. C. E. GRIFFITHS, was in a collision with one driven by Mr. Hoffman in Spokane, April 17, 1939. Mrs. REAUGH is 82 years old and sustained injuries which have made her almost a complete invalid..
---
The Davenport Times-Tribune, Nov 14, 1939
Clark E. Waldo of Davenport Tuesday filed in the superior court here an action against George K. Stocker and others seeking to quiet the title of the defendants in and to land in this city.
---
These items submitted by Barbara Curtis and typed by Rella Gleaton, "as is". Used with permission.
Thank you Barbara.....
Additions by Marge Womach.
This page last updated June 04, 2008.
====================================================================
USGENWEB NOTICE: In keeping with our policy of providing
free information on the Internet, data may be used by
non-commercial entities, as long as this message
remains on all copied material. These electronic
pages may NOT be reproduced in any format for profit
or for presentation by other persons or organizations.
Persons or organizations desiring to use this material
for purposes other than stated above must obtain the
written consent of the file contributor.
This file was contributed for use in the USGenWeb.
===================================================================
© Copyright 2008 WAGenWeb