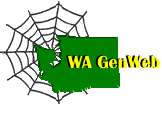 LEGAl News 0f Lincoln County, Washington
Submitted by Barbara Curtis
---
---
Page 1. Listed chronologically by the date item was published in the newspaper
---
COURT NEWS
The Sprague Herald, May 10,1888
GRAND JURORS:
From Lincoln county: JAMES WALTERS, WM F. STAFFORD, GEORGE DUNN, J. W. FRY, PETER SETTERS, JOHN SEEBER, F. RICE, S. B. LANDERS, F. B. FLEWELLING, J. R. PERSHELL, O. B. PARKS, ED RAMM, D. M. WOODWIN, L. A. KENNEDY, BEN HURLEY, JOHN HOGAN. From Adams county: L. M. ADAMS, ALBERT BAILEY, C. R. BARDWELL, JACOB BAUER.
PETIT JURORS:
From Lincoln county: R. C. McCAW, JESSE McNALL, F. J. GEHRES, PETER WYCOFF, W. H. COCHRAN, ISAAC WELEH, FRANK OWEN, F. WEST, H. H. McMILLIN, W. D. RAMBO, JAMES LOWARD, WILBER HINSHAW, S. PAGE, F. H. DRINKARD, CHARLES BETHEL, SYLVESTER SHORT, HERBERT WYNHOFF, MARTIN GILFOIL. From Adams county: GEORGE HARGROVE, JAMES HALL, R. C. HANSEN, LAFAYETTE ROOT, FRED ROSENOFF.
Up to yesterday evening three indictments had been returned to the county.
COURT PROCEEDINGS:
...JAMES F. MAHON vs EMILY MAHON. Referred to W. W. D. TURNER to take testimony and report finds of facts.
...WILLIAM DOWNS vs BEN HUTCHINSON and JAMES N. CAMPBELL Dismissed on motion of plaintiff at plaintiff's cost.
...CHRISTIAN PETERSON vs JENS PETERSON. Transferred to Spokane county.
...KATTIE LAMPLER vs JACOB SMITH. Dismissed at plaintiff's cost.
...ANDERSON CRITHFIELD vs J. R. PERSHALL. Motion to suppress depositions sustained. Motion for security for costs allowed and 30 days to file security.
...BENJAMIN ETTELSON vs JAMES DILLON. Demurrer to complain argued and sustained. Exceptions of plaintiff allowed.
...PHILIP RITZ vs A. T. LEMON, sheriff of Adams county and Adams county. Demurrer argued and sustained. Leave granted to amend and time given until August 1st, 1888 to amend. Forty days to answer. Exceptions to ruling allowed.
...PHILIP RITZ vs N. H. GREENE, sheriff of Adams county. Same deposition as last case.
...J. THOMPSON & SONS vs DARWIN KELLER. Leave to defendants to withdraw demurrer and file answer instanter. Cause continued for the term.
...J. R. JONES vs. J. R. LEWIS. Continued for the term on motion of plaintiff.
---
HELD TO THE GRAND JURY
The Sprague Herald, Thursday, December 20, 1888
F. M. MERRITT, accused of obtaining a couple of saddles and other fixtures from the THOS. McALLISTER's harness store in this city on a gorged order, has finally been arrested at Wallula by CONSTABLE JOHNSON. He was brought to Sprague by MARSHAL CONLEE Sunday evening. At a hearing before JUSTICE BARTOL Monday morning the accused waived examination and was held to the grand jury. In default of $2,000 bail Merritt now languished in the county bastile.
---
STOLE A STEER
The Lincoln County Times, Tuesday June 25, 1901
ARTHUR CHAPEL of Crab creek, stole a steer from one of his neighbors last Thursday, took the animal to Sprague, sold it to a butcher, and now he is in jail. The deed was quickly traced to him, and last Saturday he was placed under arrest. He had a preliminary hearing in Sprague on Monday, and was bound over to await the action of the superior court. His bond was fixed at $800, but up to the hour of going to press he had not been able to furnish security. His father is postmaster at Crab Creek and the family is well known.
---
GRAND JURY INDICTMENTS
Officers of Big Bend Nation Bank Must Appear Before That Body
The Lincoln County Times, Davenport, WA., Friday, June 16, 1905
Mr. A. F. LAMBERT, cashier of the old Big Bend Nation Bank, was visited by a deputy United Sates marshal Monday and required to give bonds in the sum of $1500 for his appearance before the federal grand jury at Seattle on Friday of this week to answer the charge of having falsified the condition of the defunct bank in his sworn statements of its financial condition. His bond was fixed before District Court Commissioner P. W DILLON, and his surties are ADAM KNOX and FRED ZUEHLKE. It is also reported that Mr. C. C. MAY, president of the bank, has like wise been indicted by the same grand jury, and a day set for his appearance to make answer to certain grave charges with reference to the misappropriation of funds.
---
DAMAGE CASE
The Lincoln County Times, Davenport, Wa., Friday, June 16, 1905
The breach of promise case of LAURA HEASLEY vs DURA L. NICHOLS for damages, has just been passed upon by the supreme court and a new trial granted. It will be recalled that the jury brought in a verdict for $4,560 in favor of plaintiff. Upon further hearing JUDGE NEAL ruled that the damages were excessive and gave plaintiff choice of $2000 damages or a new trial. The case was carried up with the result that a new trail has been granted. It is not certain that the case will come to trail again, however. The plaintiff in the case has since happily married, and now resides near Edwall.
---
DIVORCE GRANTED
The Lincoln County Times, May 10,1907
A decree of divorce was granted last Friday to MARY DONALDSON from JOHN DONALDSON on the grounds of desertion and non-support. The parties were married in 1888 and in 1905 the husband deserted the plaintiff and their three children. Mrs. Donaldson was awarded the custody of the minor child and $15 per month for support.
--------------
A SUIT FOR DIVORCE
O. M. THOMASON has commenced an action in this county for divorce from MARTHA BLANCHE THOMASON. Complaint states that they were married in Kansas in December 1900, and that they have ever since lived together as man and wife. He charges his wife with infidelity and prays for a judgment and decree dissolving the bonds of matrimony, and that he be granted the custody and control of their minor child, a boy of six years who is now with his mother in Kansas, whom he alleges is not fit and proper person to have custody and control of said child.
--------------------
BOUND OVER TO SUPERIOR COURT
ELMER OLIVER was brought in from Wilbur by Deputy Sheriff GOFFINET Tuesday and lodged in the county jail. Oliver is charged with assaulting R. J. McQUAIDE with a knife, and was bound over to the Superior court by Justice SCARBOROUGH. The assault took place at the fair grounds at Wilbur last Sunday during a ball game.
------------------
MARRIAGE LICENSES
The following marriage licenses were issued by the county auditor during the past week:
BEVERLY WADE of Spokane to MARY MCCUNE of Davenport.
L. B. DRISCOLL to FLORENCE BUCKMAN, both of Reardan
BURTON BARNES to ELEANOR PERRY, both of Creston. *
---
NOTICE TO WHOM IT MAY CONCERN
Creston News, Aug 9, 1907
Notice is hereby given that whereas my wife has left my bed and board without any just cause or provocation, I hereby warn all persons not to trust her on my account, as I will not pay any debts of he contracting.
Dated at Creston, Washington, This 23rd day of July 1907. PETER N. BRUJELD
---
ALLEGED HORSE STEALING
The Independent Times, Sprague, WA, August 16, 1907
HARVEY HITE and WM. GLACKEN, two horse owners from near Ephrata in Douglas county have been having their share of trouble since they landed in this locality some two or three weeks ago. They have been under arrest more or less ever since, either in Adams county or Lincoln, for horse stealing. They were turned loose in Ritzville on a preliminary hearing and JUDGE ETTELSON gave them their freedom Wednesday in this city. Their troubles are not over yet however, as they were taken to Ritzville Thursday to answer another charge.
The Sprague case was brought by BERT ANDERSON, who charged them with taking a mare claimed by him. In the testimony Mr. Anderson was positive that the mare belonged to him and Mr. Hite was just as positive in his statement that he was the owner. The whole case hinged on the brand, Anderson claiming that it was a connected OL brand and Hite that it was a P brand with a bar under it. BEN SIRGINSON and HENRY FREY examined the brand as experts and pronounced it a P bar brand. In consequence the judge discharged them.
---
COUNTY COURT NEWS
The Sprague Advocate, March 23, 1917
...Ten new cases have been filed in the superior court the past week.
...E. L. MCBROOM vs. J. A. LEVEL as sheriff, replevin case.
...ANNA SALT vs. AMANDA SANDYGREN, same as above.
...EMMA WOMACH vs. AMANDA SANDYGREN, same as above.
...MARION E. HANSEL vs. JOSEPH GUERIN, to recover on gasoline engine.
...C. H. FRANS vs. JOHN GIVEN, to clear title to real estate.
...Lincoln County vs. C. L. FISH, to condemn gravel pit.--Davenport Tribune.
...Alleging cruelty and non-support MARY A. GORR, living southeast of Sprague, has filed suit for divorce from ALBERT H. GORR< farmer, to whom she was married in 1901. She avers that he ahs been absent from their home since last July. The court is asked to decree her 120 acres on which she is living and give her custody of the four children ranging in ages from 7 years to 13 years.--Review.
---
APPLICATION
The Sprague Advocate, January 21, 1913
MARINA FLORENCE BRAUN, 15, daughter of THOMAS J. BRAUN, a barber of Harrington, has applied to the court for a guardian, alleging that life at home is made more than miserable by her step-mother. In her affidavit subscribed to before a Harrington notary the girl says that her step-mother has in her possession metal knuckles and that she carries concealed about her clothing a dagger, which she fears she will use when one of the mad spells come on her. The foster parent, so the step-daughter avers, claims to be a spiritualist and clairvoyant. The woman was examined as to her sanity in Davenport last week, but the examiners decided her mental condition was due to excessive use on intoxicants. J. S. HUFFMAN, a grain dealer of Harrington, has been suggested as a guardian for the girl, who until October of last year was a student in the Holy Names Academy, at Seattle.
---
SUES FOR DIVORCE
The Lincoln County Times, February 1, 1918
EMELIA MARR filed complaint in the office of County Clerk E. E. M. SANDERSON Friday for divorce from Conrad Marr on the grounds of desertion. The plaintiff asks for the custody of a minor daughter and for the control of the entire community property.*
----------------------------------------
CASE UNDER ADVISEMENT
The case of EMMA WOMACH and ANNA SALT against AMANDA SANDYGREN, which has to do with the settling up of the estate of ALBERT ANDERSON, came up for hearing before JUDGE JOS. SESSIONS, Tuesday morning and was taken under advisement.
--------------------------------------
HARRINGTON BOY WINS DAMAGE SUIT FOR $5500
WILLARD TALKINGTON, son of A. J. TALKIINGTON, formerly of Harrington, was awarded damages, amounting to $5500 by Superior court judge H. E. OSWALD in Spokane, fro the Washington Water Power company this week. Talkington was burned by a live wire.
---
COURT DOCKET
The Lincoln County Times, February 1, 1918
...Sat, February 9: J. O. KENNETT by Attorneys MARTIN & JOSEPH against A. L. LOGSDON by Attorney R. M. DYE.
...Mon & Tues, February 11 & 12: EDWARD W. BURKE estate, EMMA W. BURKE, Admin. by Attorneys FREECE & PETTIJOHN against GERTRUDE BURKE, objector, by Attorneys H. W. READING, BURCHAM & BLAIR.
...Weds & Thurs, Feb. 13 & 14: EDWARD ERICKSON by Attorney McCARTHY & EDGE against WILLIAM BECK et al. by Attorneys FREECE & PETTIJOHN.
...Fri, Feb. 15: O. A. FLANNAGAN by Attorneys SMITH & MACK against ELMER SIMONS, Exec. by Attorneys, FREECE & PETTIJOHN.
...Fri, Feb. 15: HENRY FREDERICK THIEL by Attorneys SMITH & MACK against ELMER SIMONS, Exec. by Attorneys FREECE & PETTIJOHN.
...Mon & Tues, Feb 18 & 19: AMELIA ECKHART by Attorneys MARTIN & JESSEPH, C. J. LAMBERT, F.K,P. BASAKE against CHARLES PETERSON by Attorneys W. E. SOUTHARD, FREECE & PETTIJOHN.
...Weds & Thurs, Feb 20 & 21: State of Washington by Attorney J. D. McCALLUM against FRED G. SIVEAR by Attorney ATWOOD KIRBY.
...Fri, Feb 22: FRANK OESGER by Attorneys MARTIN & JESSEPH against E. J. JENKS by Attorney W. M. NEVINS.
...Sat, Feb. 23: H. N. MARTIN by Attorney H. N. MARTIN against J. J. NICHOLS by Attorneys SKUSE & MORRELL.
...Sat, Feb 23: R. M. DYE by Attorney R. M. DYE against CHRIS BLATTLER by Attorneys MARTIN & JESSEPH.
...Mon, Feb 25: IRWIN by Attorneys GEORGE SOMMERS against KRAMER by Attorneys MCCARTHY & EDGE.
...Tues, Feb 26: State of Wash by Attorney J. D. MCCALLUM against RAY HAIGHT et al by Attorney G. E. LOVELL.
---
COUNTY RESIDENTS ATTENDING COURT
The Lincoln County Times, Davenport, Wa, Friday, February 08, 1918
Residents from various parts of Lincoln county were attending the sessions of the superior court here this week. The following served as witnesses:
WILLIAM THORNBURG, Peach; ALBERT GARRY, Lincoln; HENRY MARTIN, Lincoln; H. L. CAMPBELL, Wilbur; V. V. MARTIN, Tekoa; L. L. MARTIN, Wilbur; ADOLPH JACOB, Wilbur;
HOLGER JURGENSON, Wilbur; DAVID THOMSON, Wilbur; V. E. JURGENSON, Wilbur, JOHN SMITH, Wilbur, J. MCPHERSON, Wilbur.
---
EDWALL FARMER SEEKS DIVORCE
The Lincoln County Times, Davenport, WA,, March 01, 1918
Declaring that his wife has deserted him and is "infatuated with another man whom she has met secretly in
Spokane and gone to places of amusement with," WILLIAM H. SCHAFER has instituetd proceedings against RUBY R. SCHAFER, now a resident of Spokane. The couple were married in Davenport four years ago, and up till three months ago, lived near Edwall. There is one child, a three year old girl, IRENE, the custody of whom is asked by petitioner.
---
CHARGE THREE CONVICTS WITH SPRAGUE ROBBERY
The Davenport Times-Tribune, Davenport, WA., January 3, 1935
An information charging JOHN WEAVER, BERTON BABLER and HARVEY SCOTT, all three now serving terms in the state penitentiary at Walla Walla, with robbery for the holdup of the First National bank in Sprague, December 5, 1933was filed in the superior court here Monday by FLOYD J. UNDERWOOD, county prosecuting attorney. The information specifically charges that men robbed JOSEPHINE CORCORAN, an employee for the bank of $1,200, the property of the bank.
Sheriff LEW HUTSELL and Prosecutor Underwood have been working on the Sprague bank robbery case ever since it happened, with the cooperation of Sheriff "Bid" MCMILLAN of Coeur d Alene, Ida., where Weaver and Scott formerly made their home. The two officers have fathered enough evidence to warrant the filing of the information, they believe: The alleged robbers all have long terms to serve at Walla Walla and will not be brought to Davenport until there is a jury term of court when they can stand trial.
The Sprague bank was held up the afternoon of December 5, 1933, by a masked bandit, and $1200 was taken from Miss Corcoran who was in charge of the bank at the time. Officers claim that one man help up the bank, one acted as a lookout across the street from the bank, and the third member of the trio sat in a car ready to drive away with the others after the robbery.
Babler was arrested in Lincoln county several years ago for the robbery of the Mondovi store and served a term at Monroe for the robbery. Weaver and Scott are said to have long criminal records and are now serving terms for the robbery of a Piggy Wiggly store in Spokane. B also serving a term for robbery.
---
ADMIT THEFT OF TRUCK
The Davenport Times-Tribune, Nov 02, 1932
WALLACE P. MILLER , age 18, THOMAS LANDI, age 18, and WILLIAM J. PEDRIS, age 17, CCC enrollees at Camp Anderson, east of Davenport, charged with stealing a government truck from the camp October 22, pleased guilty when arraigned before Commissioner MAURICE SMITH in Spokane last Thursday. They were bound over to the federal grand jury under $500 bond each, and are being held in the Spokane county jail. The boys, after taking the truck, drove to Worley, Ida. and were arrested near Vera, October 23, as they were driving back to Spokane.
-----------------------------------------
IS NAMED GUARDIAN
An order was signed in the superior court here yesterday naming Mrs. MARY C. SCHOONOVER as guardian of the estate of her minor children, ROYDEN KEITH SCHOONOVER, JR., CHARLES LEE SCHOONOVER and EDWARD ALBERT SCHOONOVER.
---
FILES DAMAGE ACTION
The Davenport Times-Tribune, Nov 02, 1932
RUDOLPH SCHMAUDER filed an action in the superior court here Friday against CHARLES S. BROWN, farmer of this region, charging that he was working for Mr. Grown on his ranch November 18, 1938, and that a horse which he was driving was vicious and kicked him, so that he sustained two fractured legs and other injured. He asks $4, 685.44 damages, and claims he is permanently injured.
---------------------------------------------
ARRESTED AT YAKIMA
An information was filed in the superior court here yesterday by HOWARD E. PHILLIPS, county prosecuting attorney, charging MONTE ROY STUBBINS with grand larceny. It is alleged he passed a $45 worthless check at the bank in Almira October 4, and officers have been looking for him since. He was arrested at Yakima Tuesday and yesterday SHERIFF CHARLES E. McCAFFERY and State Highway Patrolman R. H. BUCHSER drove to Yakima for the prisoner and brought him to the county jail here.
---
COMMITTED TO ASYLUM
The Davenport Times-Tribune, Nov 23, 1939
BENJAMIN H. REAMS, worked at Camp Gerome in the Grand Coulee dam backwater area, was committed to the eastern Washington hospital at Medical Lake last Thursday, following a hearing in the superior court here before a board of physicians. His home is at Omak, wash. P. L. BISHOP of Lincoln, and JOHN W. Easton and THOMAS SETS of Camp Gerome testified at the hearing.
--------------------------------
FILES DAMAGE ACTION
L. L. HALEY filed an action in the superior court here Friday, seeking $ 1360.90 damages from Mr. and Mrs. B. L. MEYER of Sprague. He charges that a bull owned by the defendants was at large on the Columbia Basin highway 2 1/2 miles southwest of Sprague, July 2, 1939, and that his car was damaged badly and he sustained personal injuries when his car struck the animal.
---
These items submitted by Barbara Curtis and typed by Rella Gleaton, "as is". Used with permission.
Thank you Barbara.....
This page last updated March 28, 2008
© Copyright 2006 WAGenWeb
===================================================================
USGENWEB NOTICE: In keeping with our policy of providing
free information on the Internet, data may be used by
non-commercial entities, as long as this message
remains on all copied material. These electronic
pages may NOT be reproduced in any format for profit
or for presentation by other persons or organizations.
Persons or organizations desiring to use this material
for purposes other than stated above must obtain the
written consent of the file contributor.
This file was contributed for use in the USGenWeb.
===================================================================