Combined Harvester of Henry H. Becker at
IRBY, Lincoln County, WashINGTON, Jul 18, 1913.
Submitted by Harv Schmidt
"From L to R: At the reins of the harvester is FRED SCHMIDT, next is JACOB SCHMIDT, my grandfather and brother to Fred, the crew on the harvester are likely of the BECKER family but I do not know who they are. Perhaps someone will see the picture and e-mail us with their names. I assume that the fella at the reins of the wagon is HENRY BECKER and I believe the fella standing in the wagon is my great grandfather, HENRY SCHMIDT" Harv Schmidt, submitted 2004.
Photo by J. Elmer, Krupp, WA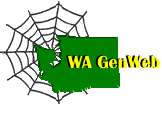 © Copyright 2004, WAGenWeb