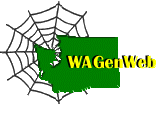 Centerville Pioneers: The Johnson (Johansen Kinnunen) Family
(This story was submitted by Dana L. Wheeler)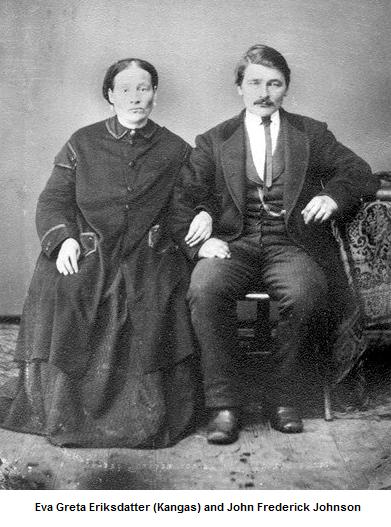 My 2nd great-grandfather was John Frederick Johnson (nee Johan Fredrik Johansen Kinnunen). He was born in Vadso, Norway January 18, 1842 to a Finnish fisherman, Johan Aron Salomonsen Kinnunen and Helena Johannesdatter.

John F. Johnson came to America 1871 along with his wife, Eva Greta Eriksdatter Kangas, and children, Anna Severina and John Alfred Johnson. There was an older daughter, Emma, who supposedly died while traveling to America. My great-grandfather, Francis "Frank" William Johnson, was born in Centerville, Klickitat County, Washington Territory November 15, 1879.

About 1885, Anna Severina Johnson, while out horseback riding, was thrown from her horse and sustained crippling injuries, which she eventually died from in 1901. She is buried in the Centerville Cemetery.

In his twenties Frank traveled to Astoria, Oregon and worked with the Astoria Printer newspaper. He met Sophia Riippa there at a Finnish Hall dance, fell in love and they were married 1907. There they had my grandmother, Eva Marian Johnson on April 1, 1909 (she is listed as baby girl Johnson for Oregon Birth Records). April 22, 1910 twin girls were born in Grays Harbor: Martha Elizabeth and Frances Isabel. The family moved back to Centerville, where Frank, along with his brother, John Alfred, started the Centerville Times newspaper. This office was housed within The Johnson Brother's Mercantile Store there in Centerville. December 24, 1913, twin boys were born to Frank and Sophia: Alfred Gordon "Gordy" and Albert Sidney "Sid". That same year, in September, Frank's mother passed away and he wrote a moving tribute to her in the paper:
The Centerville Times; Entered as second-class matter, Oct. 18th, 1912, at the post office at Centerville, Wash., under the act of March 3, 1879.
F.W. JOHNSON, Editor and Publisher ISSUED EVERY FRIDAY EVENING Subscription, One Dollar a Year.

FRIDAY, JULY 25, 1913: OUR MOTHER IS DEAD

It is with the deepest sorrow that one records the death of his mother, uninteresting though the occurrence be to the general public, many of whom forget that they owe their being to that most holy of mortals--Mother. In her death we are reminded of many things; many broken promises, many duties unfulfilled, which, had they been executed with the zeal and devotion which only motherhood understands, there would be no great regrets at the time of parting. A duty well done can cause no remorse. Whatever may have been her fault--as faults are gauged by a narrow creed-- a mother is a mother still, The holiest thing alive. She was a devoted wife, a loving mother; in fact, her greatest concern was in her own household. If these be faults, then our mother was much at fault, and a lifetime has been lived in vain. But "God is in His heaven, and all is well with the world." To His judgement only do we commend our lifetime's unfailing friend--our Mother."
My grandmother told me that her brothers were best friends with John Klockner. The Johnson's went to school in Centerville for many years before moving to Astoria, Oregon with their grandfather, John F. Johnson. Frank and Sophia, along with their children eventually moved to Antioch, California, where my great-grandfather, as well as my great-Uncles, worked for the Antioch Ledger (a newspaper no longer in print).