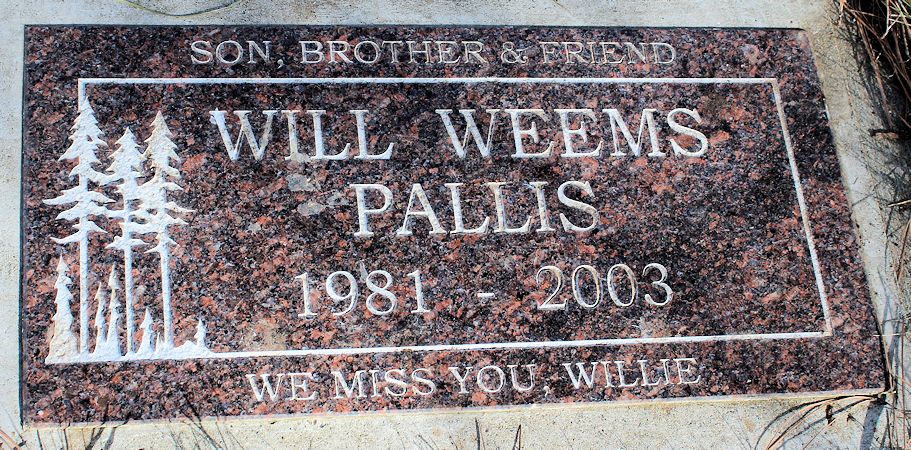 La Grande Observer
February 17, 2003
Will Pallis
(Formerly of La Grande)
1981-2003
Will Weems Pallis, 21, of Walla Walla and formerly of La Grande died Jan. 31 at Oregon Health & Science University Hospital in Portland. A graveside service will begin at 1 p.m Saturday at Mountain View Cemetery in Goldendale, Wash. A celebration of life will follow at his mother's home. A memorial service will begin at noon Feb. 16 in Harris Park, Milton-Freewater.

Mr. Pallis was born Sept. 2, 1981, to Bill and Kimberly Jane Weems Pallis in Walla Walla. His early childhood was spent in Alaska. His grandparents, Tony and Zella Pallis, lived on Pumpkin Ridge and ran Hermans' Tavern for many years. The family moved to Weiser, Idaho, in 1991 and then to Milton-Freewater where he attended high school. He lived in La Grande with his mother, Kim Stinnett, from October 2001 to March 2002, when he moved to Milton-Freewater to live with his father. He was an expert mechanic and enjoyed the outdoors.

Survivors include his mother of Goldendale, his father of Milton-Freewater, a sister, Sarah Pallis of Walla Walla, three brothers, Ryland, Gage and Ransom Stevens, all of Goldendale, and other relatives.

Contributions may be made to the Will Pallis Memorial Fund through the Bank of America in Milton-Freewater, 97862."