The following obituary was obtained through Google Newspapers. It was published in The Goldendale Sentinel 127th year, No. 9 March 2, 2006, Page 3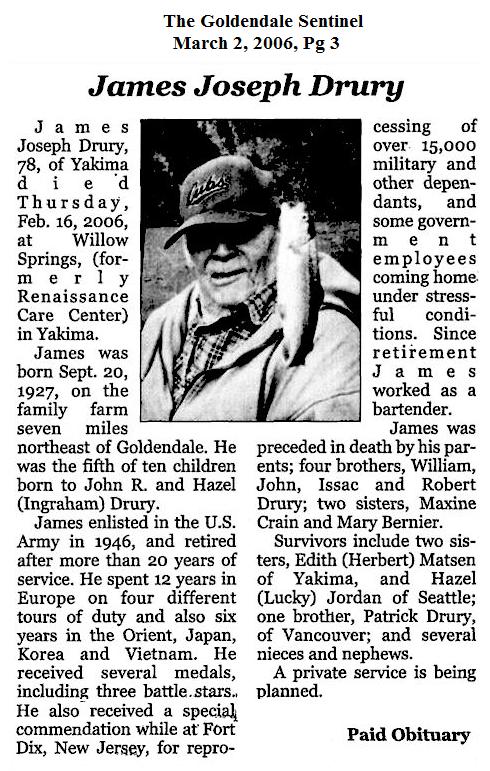 (Typed version)
James Joseph Drury
"James Joseph Drury, 78, of Yakima died Thursday, Feb. 16, 2006, at Willow Springs, (formerly Renaissance Care Center) in Yakima.

James was born Sept. 20, 1927, on the family farm seven miles northeast of Goldendale. He was the fifth of ten children born to John R. and Hazel (Ingraham) Drury.

James enlisted in the U.S. Army in 1946, and retired after more than 20 years of service. He spent 12 years in Europe on four different tours of duty and also six years in the Orient, Japan, Korea, and Vietnam. He received several medals, including three battle stars. He also received a special commendation while at Fort Dix, New Jersey, for reprocessing of over 15,000 military and other dependants, and some government employees coming home under stressful conditions. Since retirement James worked as a bartender.

James was preceded in death by his parents; four brothers, William, John, Issac and Robert Drury; two sisters, Maxine Crain and Mary Bernier.

Survivors include two sisters, Edith (Herbert) Matsen of Yakima, and Hazel (Lucky) Jordan of Seattle; one brother, Patrick Drury, of Vancouver; and several nieces and nephews.

A private service is being planned."