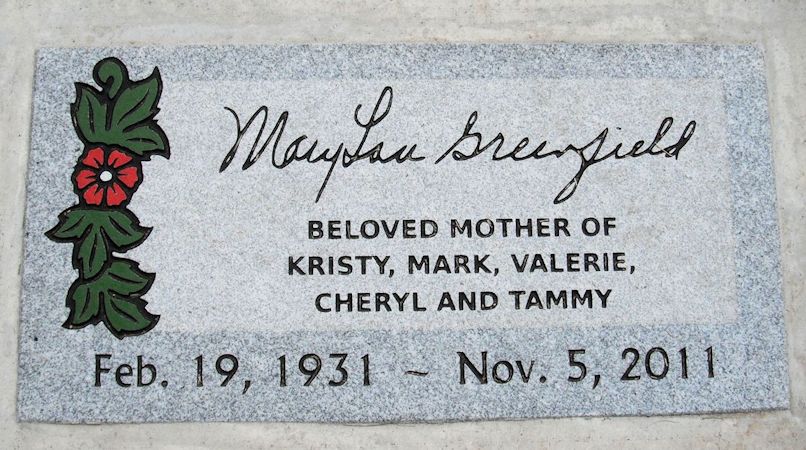 The following obituary was published in the Goldendale Sentinel
November 16, 2011, Vol. 132, No. 46
Mary Louise Greenfield
Mary Louise Greenfield, 80, of Klickitat, died Nov. 5, 2011, at her home.

She was born Feb. 19, 1931, in The Dalles, one of four children to John and Della Monroe. She spent her whole life in Klickitat, graduating from Klickitat High School in 1948. On June 25, 1949, she married Walter Greenfield (known to friends as Butter).

She was a homemaker, and after her children were grown, she worked at the Market in Klickitat and the Thriftway in White Salmon. She did childcare for families in the community. She enjoyed knitting, sewing, and loved cooking/baking.

She was a member of the Royal Neighbors, Ladies Auxillary, PTA, Klickitat Historical Museum, Canyon Days, and Klickitat Volunteer Fire Department fundraising Committee.

She loved going to the beach and other family outings. She hosted many family dinners and spent many hours watching school sports and other school activities.

She is survived by her daughters Valerie Steindorf (Mike), Cheryl Steindorf (Randy), and Tammy Greenfield, all of Klickitat; her grandchildren Traci Kessinger, Ryan Greenfield (Sarah), Michele Beautista (Pip) of Klickitat, Keith Kessinger (Rhonda), Mark Steindorf, and Randi Steindorf (Angel) of Portland, Lindsay Steindorf (T.C.) of Port St. Joe, and Nathan Steindorf (Tammy) of Richland; and 13 great-grandchildren and two more on the way. She is also survived by her youngest sister, Sue Bartholomew (Alba). and many nieces and nephews.

Mary Lou was preceded in death by her husband Walter Greenfield, son Mark Greenfield, daughter Kristy Kessinger, her parents John and Della Monroe, brother William John Monroe and sister Beverly Kamp.

Funeral services will be held on Saturday, Nov. 12, at the Latter Day Saints Church in Goldendale at 1 p.m ., with burial at IOOF cemetery. Columbia Hills Memorial Chapel is in charge of the arrangements.

Memorials may be made to the Kristy Kessinger Memorial Athletic fund, in care of Klickitat School District, P.O. Box 37, Klickitat, Wa 98628.