[Researcher Note: The following obituary was found at the McComb Funeral Home.]
Delors Ray Densley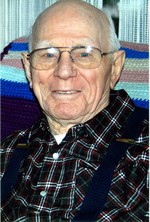 Ray Densley was born at his parents home in Pegram, Idaho located on the Idaho/Wyoming boarder. His father and mother homesteaded the property and were sheep herders. The family lived on the property until Ray was 8 years old when they moved to Riverton, Utah. A few years later the family moved back to Bear Lake County Idaho to the small town of Nounan, Idaho where Ray's family worked on the Heber S. Crane sheep ranch as sheep herders. Their home was a boarding home for employees of the ranch. The family moved to Goldendale, Washington in 1935. Ray was very involved in 4 H and showed sheep for 12 years in the states of Idaho, Utah and Washington. He started showing sheep at the age of 15 and had several grand champion sheep during his showing days.
Ray, also known as "Red" for his red hair, met his wife Inalee in 1937 at the Block House Dance Hall in Goldendale, Washington. They married on August 14, 1940, and moved to Klickitat Washington where he worked for J. Neal Lumber Company from 1940 - 1949. Their two oldest sons, Dan and Milton were born while they resided in Klickitat Ray spent many hours fishing the Klickitat and Columbia Rivers in his spare time, this is where he taught his son Dan to fish. Ray moved his young family to Glendale, Oregon in 1949 when he was hired as a saw filer at Robert Dollar Lumber Company. This is where he learned to be be a true saw filer from his mentor Jerry Ricker. Ray became involved in Boy Scouts while living in Glendale, he was Scout Master and taught many young boys how to fish and play baseball. He was featured in the local news paper in Glendale for catching a 35 lb. 14 oz. Chinook in the Salmon Harbor derby. He took his boys on several fishing trips on the Rogue River. He also became involved in the Masons and was a member of the Shrine Patrol, marching in parades in several states. Ray's two youngest children, Jim and Edith were born while residing in Glendale.
Ray moved his family to Shelton in 1960 when he was hired as a saw filer at Simpson Timber Company, he retired from Simpson in 1978 as a Saw Filer Supervisor. Ray was an active community member, volunteering as a little league coach and umpire. He helped build and establish Callanhan Park and MCRA. He was also a fast pitch umpire who wouldn't take "guff" from the players. He and Inalee were long time members of the Salty Sashayers Square Dance club and were president couple for several years. He was a volunteer at the Mason County Fair Grounds and volunteered for several years during the fair. He and Inalee were also volunteers for the Washington State Parks as campground hosts.
Ray loved the outdoors and spent a great deal of his spare time, camping, fishing and clam digging with his family and friends. He was an active member of the Tramper Sam Camping Club and traveled with the club all over the state of Washington. He loved the trips to the Coast the best. One of his greatest loves was working with his hands. He made dozens of wooden macrame chairs, wooden tables, whirly gigs, and a variety of other wooden items. He also spent his summer months in the garden including this past summer where he would sit in one of his macrame chairs and water the garden. He enjoyed making Zucchini pickles and made his last batch of pickles in September of this year.
Ray held memberships in the Knights Templar of Oregon, Cryptic Masons of Oregon, Grand Lodge of F. & A. M. of Goldendale, Washington, Hillah Shriners A. A. O. N. M. S. of Medford, Oregon. He was a lifetime donator to the Portland Children's Shrine Hospital and sponsored the care of several children at the hospital.
Ray was preceded in death by his parents Edith M. Densley and Delors Ray Densley Sr. His brothers, Clyde Densley, Mel Densley, Sidney Densley and Leslie Densley, his son Daniel Lee Densley and grandson James Richard Densley Jr.
Ray is survived by his wife Inalee Densley, Son and Daughter-in-law Milt and Sue Densley, Olympia, WA Son and Daughter-in-law Jim and Andrea Densley, Shelton, WA and Daughter and Son-in-Law Edith and Kent Hitchings, Belfair, WA. 13 Grandchildren, 9 Great Grandchildren, 8 Great Great Grandchildren and numerous nieces and nephews.