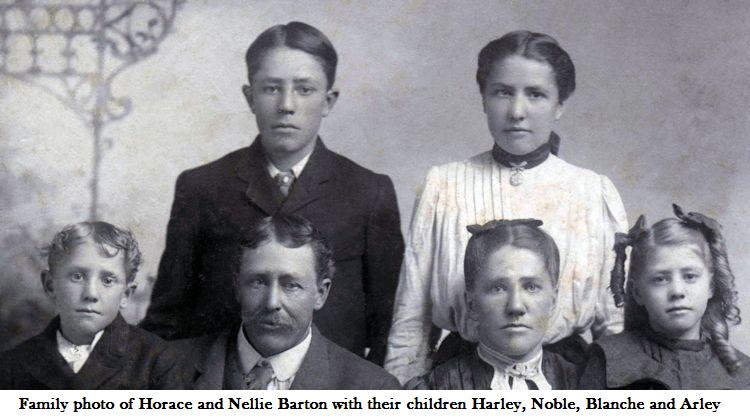 The following information came (with permission) from Tammy Loerke Jorgensen with some of the information shared with Tammy Jorgensen by Tami Burton on her genealogy website -- including Newspaper Articles on Harley Walter Barton's car accident:
Goldendale Sentinel Feb. 4, 1953
CRASH FATAL TO HARLEY BARTON TUESDAY NIGHT
Plunge Over Bank On Goodnoe Grade Demolishes Car

A 150 foot plunge over the bank on the Goodnoe Hills grade of highway 8 Tuesday night proved fatal to Harley W. Barton, 55, of Goodnoe. Sheriff E. C, Kaiser, who was summoned to the crash scene, said Barton's 1952 Chevrolet reeled over the bluff after negotiating a turn and hitting a ridge of gravel. It rolled over several times in the descent of the rock-strewn embankment, Barton being presumed thrown out on one of the rolls by the sheriff. The car was demolished, with sides and top caved in and windows smashed. Kaiser said he believed Barton took the curve "a little too fast" and then braked the vehicle, making the turn safely but failing to hold the road as he straightened out. He was travelling east toward his home. The sheriff set the time of the accident at about 6:30 p.m. although he was not notified until an unidentified person called him at 8:30. He arrived at the scene at 9:45 to find the lights of the car still burning and the dead man beside the wreckage. Had the lights not been seen from the road the wreck might not have been discovered for some time, the officer said. Scene of the crash is about 22 miles east of Goldendale. Kaiser reported there were no trees or other objects to break the plunge of the vehicle. The car was hauled into Goldendale Tuesday night.

A FISHERY MAN
Barton was working for A. C. Goddard of Roosevelt for the winter, his regular job being superintendent of a government fish hatchery in Alaska where he is employed from April to October each year, Kaiser said. Mrs. Barton works for Ed Mattson at Sundale. A twin sister of the victim, Mrs. Ed Watkins, is a Goldendale resident, and the twin children of the Bartons, 15 year old Ronnie and Donna, are students at Goldendale high school. Other survivors are two daughters, Mrs. Harold Gray of Goldendale, and Mrs. Joe Olsen of Centerville; a brother , Nobel of Blaine, Wash, a sister, Mrs. J. J. Keller of Olympia and three granddaughters. The sheriff stated the road at the crash site had been recently graded and was in fairly good condition. There was some speculation Barton may have fallen asleep, but the sheriff was inclined to disbelieve this, stating the tragic accident was probably due to excessive speed. The car was about six months old. Funeral services will be held at the Phillips Funeral Chapel Sunday at 2 p.m. with Rev. Earl Poindexter officiating. Burial will follow in the Goldendale Odd Fellows cemetery.
SHERIFF ALTERS ACCIDENT REPORT Feb. 5, 1953
Sheriff E. C. Kaiser has reported that later investigation has divulged the crash which caused the death of Harley Barton last Tuesday night occurred at appoximately 8:10 rather than at 6:30 as was first reported. Barton left Centerville at 7:45, according to reports. Kaiser also said cause of the crash could possibly have been an attack of some kind rather than execessive speed as he first concluded. He said, however, it was impossible to determine the exact cause without autopsy, but relatives of Barton have declined to have an autopsy performed.
OBITUARY Feb. 5, 1953
HARLEY WALTER BARTON
Harley Walter Barton was born at Greenfield, Missouri, July 14, 1897 and died near Goodnoe Feb. 3, 1953. He married January 30, 1929 at Vancouver, Wash. to Daisy Brock. His survivors besides the widow are two daughters, Mrs. Joe Olsen, Centerville and Mrs. harold Gray, Goldendale; twins Ronald and Donna of Goldendale; a twin sister, Mrs. Ed Watkins, Goldendale; a sister, Mrs. J. J. Keller of Olympia; a brother, Noble, of Blaine, Wash.' and three granddaughters. Funeral rites will be conducted Sunday at 2 p.m. at the Phillips chapel, Rev. Poindexter officiating. Burial will be in the local I.O.O.F. cemetery.
OUT OF TOWNERS AT BARTON RITES Feb. 9, 1953
Out of town people at Harley Barton's funeral Sunday were Mr. & Mrs. Bud Brock, Mrs. Paul Jensen, Mrs. Harvey Hansen, & Doris Brock of Ferndale; Mr. & Mrs. Noble Barton, Mr. & Mrs. Ernie Krenz of Blaine; Mr. & Mrs. Elvan Watkins, Vancouver; Mr. & Mrs Leroy Watkins, The Dalles; Mr. & Mrs. Roy Garrison, Ridgefield; Mrs. J. J. Keller, Olympia; Mr. & Mrs Frank Peterson, Portland.
TO MY TWIN BROTHER
Dear Brother we came together When the dear Lord sent us here And we've had fun being twins For Many and Many a year. We worked and played together, We shared our pennies and toys, we shared each other's sorrows, we shared each other's joys. Now the Lord has called you to him I shall miss you, Brother dear, But I know when my call comes, I shall find you standing near. Mrs. E. L. Watkins
FERNDALE RECORD Feb. 4, 1953
Word has just been received here of the accidental death of Harley Barton which occurred this (Wednesday) morning on the highway near Goldendale, According to the meager report telephoned to Mrs. Barton's sister Mrs. Harvey Hansen, Barton was alone in the car, and it went over an embankment. The Bartons were neighbors here for many years, and we unite in expressing our heartfelt sympathy to the family.
BELLINGHAM WASH. HEARALD Feb. 4, 1953
Harley Barton, former resident of Ferndale where at one time he operated a farm, was killed in Goldendale, according to information received at Ferndale by Percy Hood.
SEATTLE TIMES Feb. 4, 1953 STATE AUTO-DEATH TOLL REACHES 55 Olympia, Feb. 4, (AP)
Harley W. Barton, 55, Goodnoe Hills, Klickitat County, was found dead in his automobile last night at the bottom of 150- foot embankment 22 miles east of Goldendale. The patrol said the vehicle ran off the Goodnoe Hills grade.
JOURNAL PORTLAND AVE. Feb. 4, 1953
Goldendale, Wash., Feb. 4. (U.P.) Harley W. Barton, 55, Goodnoe Hills Wash., was killed Tuesday night when his automobile left the highway on Goodnoe Hill grade, about 22 miles east of here and plunged down a 150-foot bank.
More About HARLEY WALTER BARTON:
Burial: February 08, 1953, I.O.O.F. Cemetery, Goldendale, Klickitat Co., WA
Cause of Death: Heart Attack
death cert. #: 4886 in County 200 WA State
Medical Information: While driving he had a heart attack and went over a cliff
multiple birth: July 14, 1897, Twin to Arley Bryan Barton
Occupation: Farmer