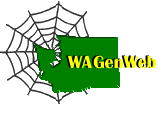 Birth Year:
to 1890
1891
1892
1893
1894
1895
1896
1897
1898
1899
1900
1901
1902
1903
1904
1905
1906
1907
1908
1909-1915

LEGEND & RESOURCES
for BIRTH RECORDS
Click on underlined links
| | |
| --- | --- |
| FS- Klickitat Register of Births 1881-1907 | Family Search. This is a FREE GENEALOGY site and has a treasure trove of online records available, including Oregon Death Records, WWI & WWII Draft Registrations, and US Censuses, plus many, many more! |
WA-KC Birth Records
Washington State, Klickitat County Birth Records
Washington State - Digital Archives. This is a FREE GENEALOGY site, with many Klickitat County Births, Marriages, Death Records, Censuses and much more.
| | |
| --- | --- |
| Findagrave | Findagrave Memorials. This is a FREE GENEALOGY site that lists the graveyards that people are buried in and often has obituaries or biographical information included. |
Washington, Birth Records, 1870-1935
Washington Births, 1907-1919

ancestry.com. Many of the records that you DO NOT SEE LINKS FOR, can indeed be found online through a PAID genealogy site subscription. Other records that may be mentioned include "Washington, King County Delayed Births, 1941-1942;" "WWI & WWII Draft Registrations;" "WWI Civilian Draft Registration;" "Oregon Select Births & Christenings 1868-1929;" "Social Security Applications & Claims Index 1936-2007"
---