Clemens, Robert Menzer
Graciously submitted by Glenn Edmison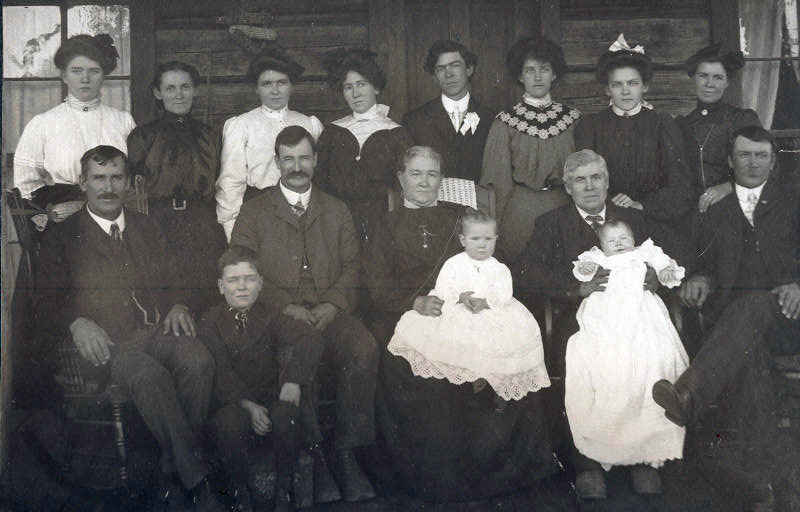 Robert Menzer Clemens, an early and respected resident of White Salmon, was born 9 Aug 1844 in Fulton County, Indiana, a son of Isaac Clemens Jr., and Rachel Tarbutton. In 1850, the family was in Rochester, Fulton Co., IN and in 1860, in Buchanan, Atchisson Co., MO.
He, his father and brother Nicholas were veterans of the Civil War. Isaac Clemens with sons Robert and Nicholas enlisted together on March 13, 1862 in Rockport, Missouri, serving in the Old Regimental Cavalry, South Missouri Volunteers, Company C. He was discharged April 10, 1862 for disability at St. Joseph, Missouri, but reenlisted as a private in K Co., 2nd Cav., Reg, NE on 25 Dec 1862, also in Rockport, MO. He was mustered out on 23 Dec 1863, At the end of the war, he again served in the army, in the west, fighting Indians.
In 1870, he is again listed in Atchison, Polk Co., MO as a 25 year old farmer. In this year, he met and married Martha Jane Rathbone, who was the young widow of Thomas Smith. Martha was a daughter of Ira Webster Perry Rathbone and Sarah Louisa White.
In 1880, he had moved to German, Smith Co. KS, and in 1885 was located in Martin Twp., Smith Co., KS. The oldest of their children, Rachel was born in Hamburg, Fremont Co. IA, the other four were all born in Smith Co., KS. However, the West was calling. He moved to Washington in 1887. In 1889 he homesteaded 40 acres next to the property of L.M. Locke in what is now known as Hesler Orchards at Snowden above White Salmon. In 1890 he is listed in the Washington State Veterans Schedule as a resident of Klickitat Co. He is again listed in the 1892 Washington State Census, and also in 1900, as a resident of Husum, Timber Valley and White Salmon.
Robert was both a farmer and a carpenter. He was known locally as Uncle Bobby, and built a number of local houses, some of which were still occupied in 2011.
Robert and Martha are buried near the entrance to the White Salmon Cemetery.
The children of Robert and Martha were as follows:
Rachel Adah Clemens
b. 4 Jan 1871 d. 3 Aug 1971
Buried IOOF Cemetery, Goldendale, WA
Married to William Morehead, oldest son of Joseph C. Morehead and Matilda Jane Larkin, another pioneer family, of Goldendale.
Janey May Clemens
b. 7 Aug 1872 d. 7 Feb 1873
Rosa Estella Clemens
b. 12 Dec 1872 d. Jul 1967
Buried White Salmon, WA Cemetery
Married to Albert Etherton, Jesse E. Richardson, and Dwight Carlton.
Susan Effa Clemens
b. 31 Jan 1878 d. 27 Nov 1960
Buried IOOF Cemetery, White Salmon, WA
Married to Jacob Milton Locke.
Robert Webster Clemens
b. 28 Jul 1880 d. 10 Jan 1947
Buried Sand Point, Bonner Co., ID.
Married: Laura Belle Perkins and Evelyn Riddle.