Bane, Everette
Published in the Jan. 12, 1911 issue of The Goldendale Sentinel
A lifelong resident of Klickitat County, Everette E. Bane passed away at his home in Centerville on Friday, Jan. 7, 2011 at the age of 59.
He was born Dec. 3, 1951 in Goldendale, Washington to George E. Bane and Azalee Roderick Bane. He grew up in Goldendale and spent a lot of time on his grandparents' farm in Pleasant Valley. He graduated from Goldendale High School and served in the Air Force from 1970-72. He was stationed at McChord AFB in Tacoma and served in the Vietnam War.
In high school, he worked for several farmers in the area, including the Eshelman's and Don and Wayne Hoctor. He loved to farm and to operate equipment. He hauled a lot of hay and also held a job at the Oasis Cafe as the stockboy/janitor during high school. He loved to fix old cars and drive fast.
In the spring of 1971, he met his future wife, Judy A. Enyeart and they dated throughout that year while he was stationed at McChord AFB. His future father-in-law, Luke Enyeart, recognized a good thing when he saw it and when Everette used to drive down from McChord on a regular basis to see Judy, he usually ended up in a tractor somewhere before their dates.
They were married June 10, 1972, and Judy went back to high school and graduated in 1973. Everette found jobs around the county, including pouring the concrete for the then new grain elevator at Klickitat Valley Grain Growers. He drove log trucks for a lot of years, worked construction and twice went to Montana to work for Bonneville Power Administration maintaining their huge power lines. He really enjoyed that.
Two daughters were born to Everette and Judy, Lucinda Lynn in 1975 and Kacie Lee in 1977. He loved his girls very much and was very proud of them.
He suffered ill health for the last several years of his life and didn't get out much, but he loved to care for his yard and garden and kept them beautifully groomed as long as he was able. He was someone people knew they could come to for help and support and he gladly gave what he could to anyone who asked.
He was preceded in death by his parents, his grandparents, B.W. and Lucinda Bane, his stepmother, Wilma Tallman Bane, his Uncle Buel Bane and Aunt Edna and his cousins David and Blair Bane.
He is survived by his wife Judy of Centerville, daughters Lucinda Letson of Goldendale and Kacie Bane of Cave Creek, Ariz.; his brothers, Paul of Boise, Idaho and Ben of Spokane; cousins Bruce and Ronald of Goldendale, and Lucy in the Longview area; and numerous beloved nieces and nephews. He will be greatly missed.
Services are scheduled to be held Friday, Jan. 14, 2011 at Columbia Hills Funeral Chapel in Goldendale at 11 a.m. A dinner will be served at the Goldendale Grange Hall following the graveside service at the Centerville Cemetery.
Barton, Harley Walter

The following information came (with permission) from Tammy Loerke Jorgensen with some of the information shared with Tammy Jorgensen by Tami Burton on her genealogy website -- including Newspaper Articles on Harley Walter Barton's car accident: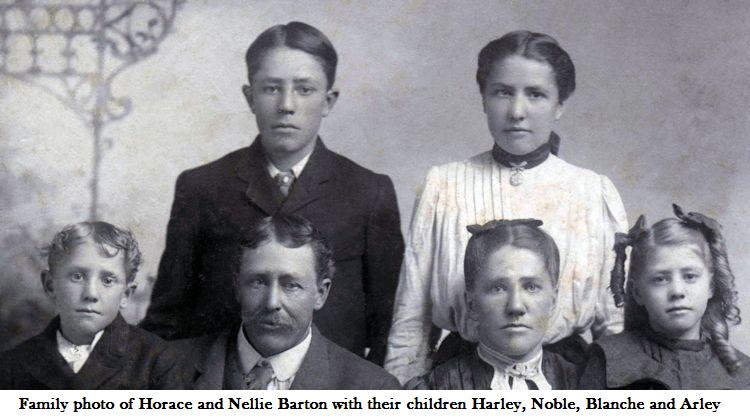 Goldendale Sentinel Feb. 4, 1953
CRASH FATAL TO HARLEY BARTON TUESDAY NIGHT
Plunge Over Bank On Goodnoe Grade Demolishes Car

A 150 foot plunge over the bank on the Goodnoe Hills grade of highway 8 Tuesday night proved fatal to Harley W. Barton, 55, of Goodnoe. Sheriff E. C, Kaiser, who was summoned to the crash scene, said Barton's 1952 Chevrolet reeled over the bluff after negotiating a turn and hitting a ridge of gravel. It rolled over several times in the descent of the rock-strewn embankment, Barton being presumed thrown out on one of the rolls by the sheriff. The car was demolished, with sides and top caved in and windows smashed. Kaiser said he believed Barton took the curve "a little too fast" and then braked the vehicle, making the turn safely but failing to hold the road as he straightened out. He was travelling east toward his home. The sheriff set the time of the accident at about 6:30 p.m. although he was not notified until an unidentified person called him at 8:30. He arrived at the scene at 9:45 to find the lights of the car still burning and the dead man beside the wreckage. Had the lights not been seen from the road the wreck might not have been discovered for some time, the officer said. Scene of the crash is about 22 miles east of Goldendale. Kaiser reported there were no trees or other objects to break the plunge of the vehicle. The car was hauled into Goldendale Tuesday night.

A FISHERY MAN
Barton was working for A. C. Goddard of Roosevelt for the winter, his regular job being superintendent of a government fish hatchery in Alaska where he is employed from April to October each year, Kaiser said. Mrs. Barton works for Ed Mattson at Sundale. A twin sister of the victim, Mrs. Ed Watkins, is a Goldendale resident, and the twin children of the Bartons, 15 year old Ronnie and Donna, are students at Goldendale high school. Other survivors are two daughters, Mrs. Harold Gray of Goldendale, and Mrs. Joe Olsen of Centerville; a brother , Nobel of Blaine, Wash, a sister, Mrs. J. J. Keller of Olympia and three granddaughters. The sheriff stated the road at the crash site had been recently graded and was in fairly good condition. There was some speculation Barton may have fallen asleep, but the sheriff was inclined to disbelieve this, stating the tragic accident was probably due to excessive speed. The car was about six months old. Funeral services will be held at the Phillips Funeral Chapel Sunday at 2 p.m. with Rev. Earl Poindexter officiating. Burial will follow in the Goldendale Odd Fellows cemetery.
OBITUARY Feb. 5, 1953
HARLEY WALTER BARTON
Harley Walter Barton was born at Greenfield, Missouri, July 14, 1897 and died near Goodnoe Feb. 3, 1953. He married January 30, 1929 at Vancouver, Wash. to Daisy Brock. His survivors besides the widow are two daughters, Mrs. Joe Olsen, Centerville and Mrs. harold Gray, Goldendale; twins Ronald and Donna of Goldendale; a twin sister, Mrs. Ed Watkins, Goldendale; a sister, Mrs. J. J. Keller of Olympia; a brother, Noble, of Blaine, Wash.' and three granddaughters. Funeral rites will be conducted Sunday at 2 p.m. at the Phillips chapel, Rev. Poindexter officiating. Burial will be in the local I.O.O.F. cemetery.
Please note that there is additional information available on this site under the Goldendale Mountain View IOOF cemetery listing, under Harley Barton's name
Berrian, James Augustus
Though James Augustus Berrian ended up on the west coast, he was a part of the Berrian family of Peoria County, Illinois. He was born in Binghamton, Broome County, New York to James Berrian and Sarah Reed on 7 June, 1828. His father had migrated to Broome County, New York from probably Westchester County, New York. Prior to his death on 15 April, 1848 James Berrian moved his family to Jubilee Township, in Peoria County. He left his wife, Sarah, who was born about 1801 in Rhode Island with the family to finish raising. She remained put and died after February of 1861.
James Augustus Berrian was their second son and grew to his adulthood in the Jubilee Township area. However, gold was discovered in California and he decided to head west to seek his fortune. Like so many others, he didn't find the mother lode he sought and returned to Illinois.
On 10 June 1852 he wedded Sarah B. Powell, the daughter of Thornton Powell , who had come from Virginia and his wife Julia.
With Sarah at his side he followed the farming industry. Two daughters were born to them, Francis Elizabeth, born 2 April 1853 in Brimfield, later to become Mrs. Richard Huntley. After a move to Mendota, Illinois a second daughter, Emma Mary would enter the world on 22 March 1858. Emma would later marry Rev. Jonathan Wood.
Emma was not too old when Sarah died, probably around 1860, leaving James with two small daughters. They were left in the care of family relatives and knowing he had to support his children, James went to Chicago, Illinois where he became a conductor on the horse drawn trolley line.
Eventually he met a young school teacher, Imilda Leona Wendell, 11 years his junior and they were married on 17 August 1865 in Milwaukee, Wisconsin by Rev. Comfort Waller.
Imilda had been the last child born to the two marriages of her father Jacob Wendell, which totaled 20, three dying in infancy. Her mother, Nancy Fox had also been married briefly before and had two children. Imilda, who preferred the name Leona was born on 29 September 1840 at Wilsie Hill, Warren, Herkimer County, New York.
Sometime after their marriage Emma went to live with them in Chicago. Over the ensuing years they would reside in various places. Their first daughter, Ada Louisa was born in Neillsville, Clark County, Wisconsin on 21 October 1866, to be joined on 21 January 1871 when they resided in Mendota, La Salle County, Illinois. After they relocated in Clitherall, Otter Tail County, their third child, George Arleigh joined the family.
Apparently things were either not going too well for the Berrian family or James just needed to move on. He had been to the west and once again he decided to set out. His older daughters Francis and Emma were given their choice of whether they wished to go, but Francis who was in her late teens opted to remain in Wisconsin. Emma was probably left due to schooling. Imilda Berrian put high value on education, boys and girls alike. Emma did eventually re-join her family.
By train, James, Imilda, Ada, Jimmie and baby Arleigh set out for San Fransisco. Upon arrival they they took a steam ship up the coast, into the Columbia River and Portland, Oregon. James found that upriver beyond The Dalles, Oregon in Washington Territory there was lots of land and he set out in that direction.
They arrived in the newly being formed community of Goldendale, not knowing a soul and with no place to live. He went to the general store of a man by the name of Thomas Johnson to inquire about a house. Mr. Johnson took the entire Berrian family home with him to live with him and his family until housing could be found. They eventually went to live in the home of Mr. Jenkins. Mr. Jenkins, and elderly man eventually re-married a Mrs. Cram and the Jenkins' lived on the second story of the home and the Berrian's on the first floor.
Tragaedy would soon befall the Berrian's as little George Arleigh had contracted whooping cough on the trip and died after their arrival in Goldendale on 20 February 1874. He is buried in the Columbus/Maryhill Community Cemetery.
Eventually the Berrian's took up a homestead east of Goldendale. In spare time James would go up into the Simcoe Mountains and pan for gold. He had the knowledge from his time in California and thought since there was gold he might do well. He never found much of anything and in the end it caused him great pain and agony, eventually it is thought to have caused his death. He started to become paralyzed to a degree in his legs. Imilda took him to Portland to the best doctors of the day and the report was that his heavy working days must come to an end.
James Berrian purchased 80 acres of land just below and west of the cemetery in what was then called Columbus, Washington, now Maryhill, Washington. Beings there was no house on it he rented one from Mr. Presby in Columbus. The family was still growing, with the birth of Lulu Jennie on 26 October 1875 (later to be Mrs. Edwin Hill of Durfur, Oregon), George Waller born 14 January 1880 in Columbus.
The growing family desperately needed a house, so Leona accepted a teaching position at a school up over the hills from Columbus called #6. She rode daily back and forth to school to earn the money that was needed to build their home.
James' health progressingly got worse and on 15 May 1883 he passed away, leaving Leona with the children, plus an infant, Howard Clarence who had been born on 24 January 1883. He was layed to rest in the cemetery by his small son George Arleigh.
Times were difficult for her, but James' nephew James Edwin Lucius Clark had come out from the mid-west to start a new life. Lucius as he was known was the son of James' sister Mary Caroline Clark. He pitched in to help the family and fell in love with James and Leona's eldest daughter, Ada. In the fall after James' passing, Lucius and Ada were married in the Umatilla House, in The Dalles, Oregon.
Leona remained on the Columbus property for many years, supporting herself with canning fruit, which would eventually wind up in the Idaho gold fields.
When it became time for Leona to dispose of her holdings in Columbus, she spent a good deal of time with her daughters, Ada Clark, who resided first in Biggs, Oregon just across the river from Columbus, later moving to Wasco, Oregon and finally settling permanently on a sizeable fruit ranch in Hood River, Oregon. Leona also spent time with her other daughter Lulu Hill in Dufur. For a period of time she lived in Portland, where she owned a home near Reed College.
Eventually she spent a good share of her time in the Long Beach area where the Clark family wintered. It was there that she passed away on 12 July 1933 and her ashes were later placed with her son, Howard's body, in the Inglewood Cemetery.
Her last words in this world were....."Oh James, you have come for me at last."
Source: James and Imilda Berrian were my great-great grandparents. Their daughter Ada Louisa Berrian and James' nephew, James Edwin Lucius Clark were my great-grandparents.
Submitter: Charlott Wells Jones