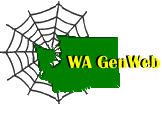 Garfield County, WA Databases



This is the location of databases provided by US GenWeb and Genealogy researchers.
---
HARLEY B. STALLCOP
Harley B. STALLCOP is one of the younger farmers of Garfield county and already is numbered among the most successful. He was born on the farm which he is now operating July 3, 1881, a son of George and Sarah (EDWARDS) STALLCOP, who are residents of Pomeroy. His education was acquired in the common schools, in the high school at Pomeroy and in the Northwestern Busines College at Spokane, where he spent two years as a student. In 1904 he rented the homestead, and his time and attention have since been devoted to its operations and further improvement. He raises wheat and stock and derives a good profit from each branch of his business. His farm comprises nine hundred and fifty acres of excellent land and is one of the best properties in the township.
Mr. STALLCOP was married September 27, 1905, to Miss Elizabeth GUSTIN, a native of Oregon, and they have five children, Fern L., Harley W., George A., Raymond C. and Gilbert E.
Mr. STALLCOP is a repulican in his political belief but has never been an aspirant for office. His fraternal connections are with the Knights of Pythias and the Foresters. The high esteem in which he is held by those who have known him well since boyhood, is the best proof of his genuine worth and attractive personal qualities.
****
Source: Book: Lymans HISTORY of OLD WALLA WALLA, COLUMBIA, GARFIELD, and Asotin Counties. by. W.D. LYMAN, M.A., Lit.D Illustrated Volume 1 Chicago, The S.J. CLARKE PUBLISHING COMPANY, 1918 Pages 592-593