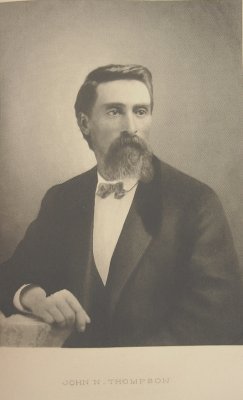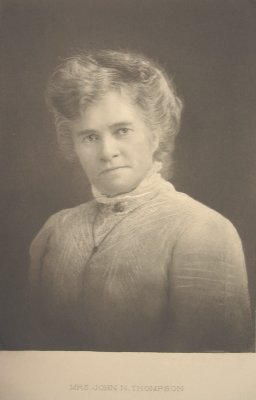 Mr & Mrs JOHN R. THOMPSON

John N. THOMPSON became a resident of what is now Columbia county in the early days of its settlement and went through all the unpleasant experiences of pioneer life but also had the satisfaction of knowing that he was a factor in bringing about the transformation that has made this county the rival of the older localities in the east in all that pertains to the highest type of civilization. He was quick to recognize the unequalled opportunities offered in the unclaimed frontier land of the Walla Walla valley and from time to time added to his holdings, becoming eventually the owner of three thousand acres, of which more than nine hundred acres is excellantly adapted to the raising of wheat. He accomlished much during his long and busy life, and his demise was recognized as a loss to his community.

Mr. THOMPSON was born December 20, 1836 in New York State and was a son of Elisha D. and Abigail THOMPSON, the former born in New York and the latter in Massachusetts. At length the family removed to Wisconsin and there the parents resided until called by death. To them were born ten children, of whom only one survive

John N. THOMPSON grew to manhood in the Badger state, and his education was that afforded by its public schools. In 1860 he decided to try his fortune in the west and for some time engaged in gold mining in Colorado. Later he removed to Oregon, whence he came to Old Walla Walla county, Washington, homesteading land in what is now Columbia county. He at once began the improvement of his place and his labors proved so profitable financially that he was able to purchase more and more land, holding title at his death to three thousand acres. He engaged in both wheat and stock raising, nine hundred and twenty acres of his holdings being wheat land, and about two thousand acres comprising a stock farm. The management of his extensive interests required marked executive ability as well as a thorough knowledge of the best methods of cultivating fields and caring for the stock, but he proved more than equal to all the demands made upon him and was thoroughly businesslike in the direction of his affairs.

Mr.THOMPSON was married in Oregon, November 8, 1871, to Miss Viola A. EASTHAM, a native of Oregon and a daughter of William F. and Delilah (CLEVER) EASTHAM. Her father was born in West Virginia and her mother in Illinois, in which state their marriage occurred. In 1848 they made the long journey across the plains by wagon train, that being the only means of travel, and Mr. EASTHAM took up a donation claim of six hundred and forty acres near Salem, Oregon. Their first residence in the west was a log cabin and their life was that common to pioneers, characterized by hard work and self-denial. They were not discouraged, however, and in time were rewarded by prosperity. Both Mr. and Mrs. EASTHAM passed away in Oregon, and six of their fourteen children are also deceased. To Mr. and Mrs. THOMPSON were born four children; Myrtle A., who died when three years old; Roy EASTHAM, who died at the age of five years; Leo John, a well known stock man of Columbia county, who is married and has two children, Roy B. and Helen A.; and Helen Viola, a graduate of Pullman College and the wife of Irving F. LAUCKS, of Seattle, by whom she has a daughter, Helen V.

Mr. THOMPSON was a stalwart republican and was an active party worker, doing all in his power to secure the success of the republican candidates. He has a wide acquaintance throughout Columbia county and had many friends to mourn his death, which occurred in 1910. His remains were interred in Dayton cemetery.
****

Source: Book: Lymans HISTORY of OLD WALLA WALLA, COLUMBIA, GARFIELD, and Asotin Counties. by. W.D. LYMAN, M.A., Lit.D Illustrated Volume 1 Chicago, The S.J. CLARKE PUBLISHING COMPANY, 1918 pages 638-643, pictures on pages 640-641.