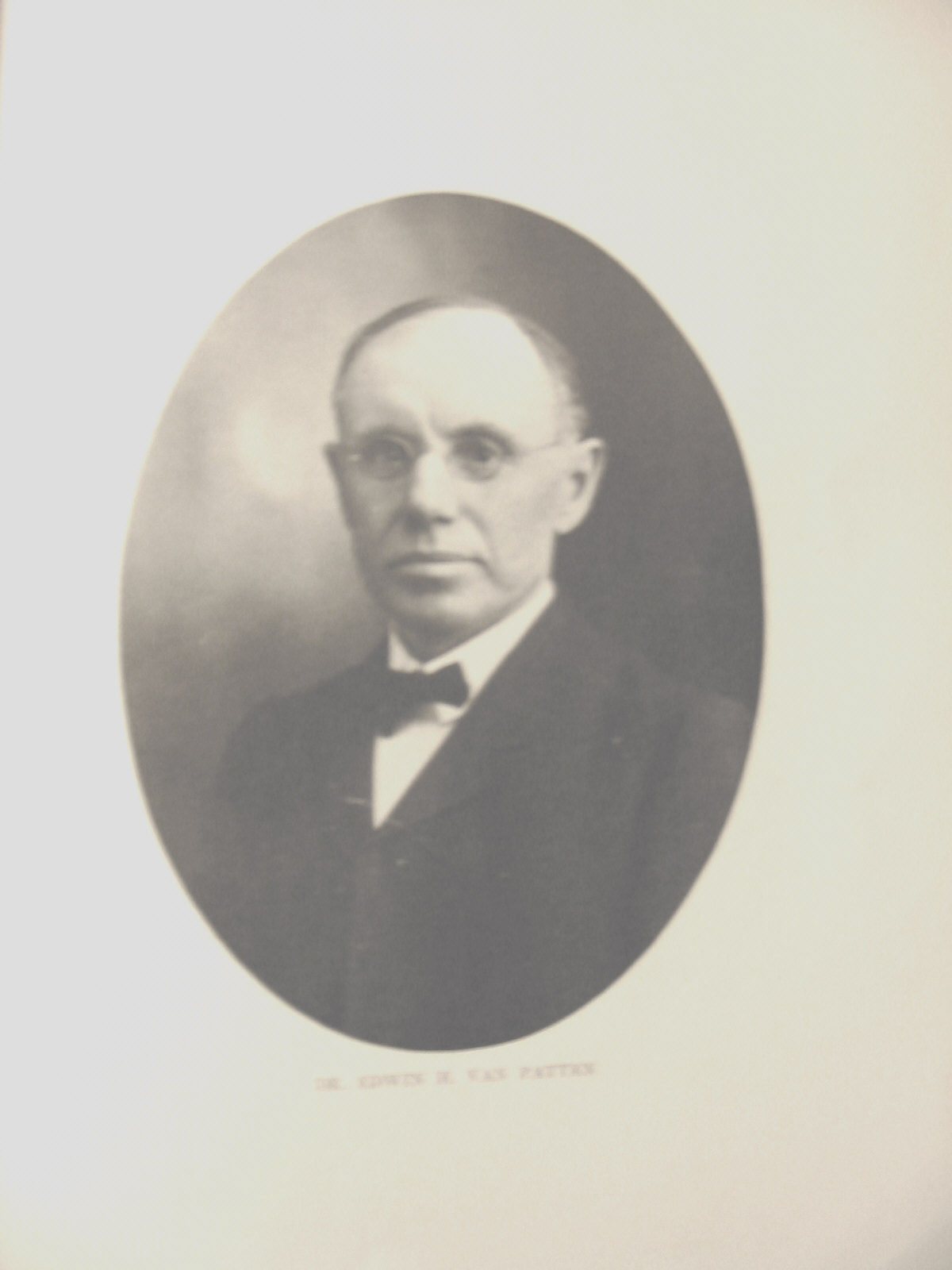 EDWIN HUGH VAN PATTEN,PH. M., M.D.
Dr. Edwin Hugh VAN PATTEN, a distinguished member of the medical profession at Dayton, was born March 8, 1855, near Springfield, Illinois, and traces his ancestry back to the year 1641, when Charles Frederick VAN PATTEN was born. He came to New Amsterdam, now New York, in 1664 and from that ancestor the line comes down unbroken to Dr. VAN PATTEN of this review. His parents were John COOP and Rachel (McCOY) VAN PATTEN. The father was born in New Jersey, January 22, 1832, and acquired a public school education in Springfield, Illinois, accompanying his parents on their removal to that state during his early youth. He studied for the ministry of the Cumberland Presbyterian church and remained one of its well known pastors until the union of the Cumberland Presbyterian with the Presbyterian church, when he returned to the church of his youth. For a number of years he was general agent for the Lincoln University at Lincoln, Illinois, and he became pastor of the Cumberland Presbyterian church of Lincoln at the time when he accepted the agency, there remaining for five years. On leaving Illinois he removed to eastern Washington in 1880, settling in Dayton, where he had purchased land and where he engaged in preaching the gospel for many years. He was also prominent in the public life of the community and was chosen to represent his district in the state senate, which position he was filling at the same time Governor RODGER was elected. He died in the latter part of August, 1912, when in the Eighty-first year of his age.
Dr. Edwin Hugh VAN PATTEN, reared in Lincoln, there acquired his early education as a public school students and afterward attended the Lincoln University , which conferred upon him the degree of Bachelor of Philosophy in 1879 and that of Master of Philosophy in the spring of 1883, the latter coming to him from his alma mater as a well earned honor. In 1880, then a young man of twenty-five years, he accompanied his parents on their removal westward to Oregon and took up his abode upon a claim in Sherman county. It was his desire, however, to enter upon a professional career. He had previously engaged in teaching school in Illinois but regarded this merely as an intial step to other professional labor and in 1881 he returned to his native state to become a student in Rush Medical College in Chicago, from which he was graduated in February, 1883, with valedictorian honors as a member of a class of two hundred. He then returned to the northwest and located for practice in Dayton, where he has remained for thirty-four years, occupying one office through practically the entire period. Actuated at all times by a most progressive spirit, he has kept abreast with the latest thought, researches and discoveries of the science of medicine, has one of the best equipped offices in the northwest and one of the most complete medical libraries. In 1888 he went to New York, where he pursued an extended post-graduate course, specializing in the study of diseases of the eye and ear. It was Dr. VAN PATTEN who performed the first successful laparotomy operation and the first successful hysterectomy operation in Columbia county. He has done much difficult surgical work which has given evidence of his remarkable skill and high achievements in this branch of the profession and he is regarded as the peer of the ablest physicians and surgeons on the Pacific coast. He is likewise a member of the Edwards-Hindle Company of Dayton and is a landowner of Columbia county, Washington and of Sherman county, Oregon.
On the 25th of June, 1884, in Bismarck,Illinois, Dr. VAN PATTEN was united in marriage to Miss Julia SATTERWHITE, of Louisville, Kentucky, who had been a schoolmate of the Doctor in Lincoln. She is a daughter of Parker SATTERWHITE and was graduated from the Lincoln schools in June, 1881, and taught school for some years prior to her marriage. She afterward became grand correspondent for the Grand Chapter of the Eastern Star, which position she occupied for a number of years or until her health caused her to resign.
Dr. VAN PATTEN gives his political allegiance to the democratic party and in 1889 was candidate on its ticked for the office of state senator and again in 1905. On both occasions he was defeated by a small majority in a strongly republican district, although he ran far ahead of the regular party vot. He served for six years as a member of the school board of Dayton and soon after his arrival in Columbia county, was elected county coronor, which position he occupied for many years. In Masonic circles Dr. VAN PATTEN occupies a very prominent position. He is a past grand master of the grand lodge of Masons, having served during 1904 and 1905. He was grand patron of the Order of the Eastern Star in 1892 and 1893 and is now right eminent grand commander of the Knights Templar. He is also the grand king of the Grand Chapter of Royal Arch Masons for the state and he is a member of the Oriental Consistory of Spokane, in Scottish Rite Masonry. He is likewise an elder of the Cumberland Presbyterian church, which indicates that his obligations for the religous development of the community are not neglected. In fact he is an active and helpful church worker and does everythings in his power to extend the influence and promote the growth of the organization. He belongs to the Walla Walla Valley Medical Society and he went abroad for study in surgery in Europe. He has never ceased to be a close student of his profession and yet his reading has been by no means confined to medical and surgical lines but has reached out into the broad realms of thought. While in Europe he was several times requested to address the Travelers Club and the Camera Club, organizations of prominent people from all parts of the world. He is a gifted speaker and is frequently called upon to address various gatherings. Moreover, he is an unusually entertaining conversationalist, which makes him very popular in social circles. In a work, association with Dr. VAN PATTEN means expansion and elevation.
****
Source: Book: Lymans HISTORY of OLD WALLA WALLA, COLUMBIA, GARFIELD, and Asotin Counties. by. W.D. LYMAN, M.A., Lit.D Illustrated Volume 1 Chicago, The S.J. CLARKE PUBLISHING COMPANY, 1918 Pages 680-684, picture on pg 681