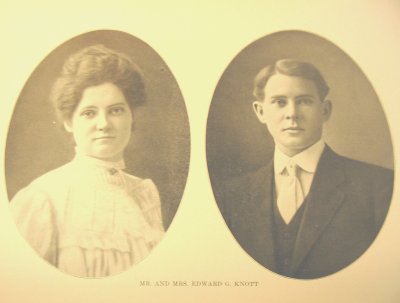 Mr. & Mrs Edward Knott
Edward G. KNOTT, who is giving his entire time and attention to the operation of an excellant of twelve hundred acres in Columbia county, is a western man by birth as preference, being a native of Walla Walla. he was born May 12, 1883, a son of James and Josephine (ULBERG) KNOTT, who were natives respectively of England and Sweden, but were married in California. In the 70's they removed to the city of Walla Walla where they still reside. For many years the father was actively engaged in the construction business, taking contracts for masonry.
Edward G. KNOTT is one of the seven living children in a family of nine. He was reared at home and is indebted for his education to the public schools of Walla Walla. On attaining his majority he turned his attention to farming, recognizing the value of the fine land in this section, and after operating rented farms for ten years he bought tweleve hundred acres, the greater part of which is fine wheat land in Columbia county and took up his residence on that place. He gives to his affairs the same careful attention that a business man gives to his interests and his work is conducted in a most systematic manner. He ranks among the most progressive and successful agriculturists of Columbia county and recieves a gratifying profit from his land.
In 1908 Mr. KNOTT was married to Miss Della RICHMOND, also a native of Walla Walla county, and they are the parents of three children, Harold R., Robert E. and Arnold F. Mr. KNOTT casts his ballot in support of the democratic party but his participation in public affairs has been confined to the excercise of the right of franchise. However, he is deeply interested in the welfare of the public schools and has served with credit to himself as a membaer of the school board. He has a wide acquaintance in Columbia and Walla Walla counties, and his genuine worth is attested by the fact that those who have been most intimately associated with him since his boyhood are his stanchest friends.
Source: Book: Lymans HISTORY of OLD WALLA WALLA, COLUMBIA, GARFIELD, and Asotin Counties. by. W.D. LYMAN, M.A., Lit.D Illustrated Volume 1 Chicago, The S.J. CLARKE PUBLISHING COMPANY, 1918 Pages 518-521