This is the location of databases provided by US GenWeb and Genealogy researchers.
Feel free to contribute information that you have collected to:


Steve Jacobson
---
ARCHIMEDES HANAN
By Betty Gibboney
Story submitted provided by: Nancy Brunk
Archimedes Hanan perhaps the most noteworthy character in Columbia County, Washington, from the standpoint of history, is he whose name heads this article, and a brief outline of his career is essential in this connection.
He was born in Harrison County, Kentucky, about three miles west of Cythiana, November 9, 1810, his parents being James Marshall and Margaret (McFall) Hanan. His father was born in Pennsylvania and his mother probably in Kentucky. The grandfather, John Hanan, was a patriot soldier during the Revolutionary war, and was wounded at the battle of White Plains. During the same struggle the mother of our subject and her parents were captured by the. British and Indians, and were taken to Montreal, but were subsequently returned. Two of our subject's brothers, John and James Hanan, were in the war of 1812, and the latter was at Fort Erie when it was blown up. His mother's father located a large tract of land in Kentucky, and gave all his children considerable property but all sold out and left there except Mrs. Hanan, who resided on the place given to her until her death, about 1824. Our subject resided on that homestead until 1825, one year after his mother's death, and then for a portion of one year lived with his eldest brother, John Hanan. After this he went to Missouri (1825), in company with his youngest brother, Thomas, who was killed by the Indians in California Nov. 25, 1849. They located on what was known as Looking?Glass Prairie, and the house in which they lived occupied the highest inhabited spot on the Missouri side of the Mississippi river eighteen miles below the mouth of the Des Moines. In this pioneer region, where far more Indians were to be seen than whites, he soon attained a fair command of the Indian dialect, and although then a mere lad, became acquainted with Black Hawk and many other Indians whose names subsequently became well?known in the history of that region.
In the spring of 1827 he accompanied his brother Thomas to the scene of the lead discoveries in Illinois, but his brother soon returned to Missouri though he himself remained and was at Galena when that name was given to the little mining town which spring up as if by magic. In the fall of the year 1827 he went back to Missouri, and there found his eldest brother and his third brother Samuel, who had come out from Kentucky. The latter and the youngest brother, Thomas, went back to the Blue Grass State, (1827) and our subject, with the other brother (John) went to Fulton county, Illinois, and located at Canton, which then consisted of four or five log cabins. In the following spring he went back to the mines at Galena, remained through the summer in that vicinity and in and around Mineral Point, and saw some of the effects of the war between the whites and the Winnebago's. He sold out his interest in a lead mine at Mineral Point for $300.00 (on credit) to a man who a short time later sold out at an advance and left, and young Hanan never realized a cent from his property. He spent that winter at Canton, and in the spring again went back to the mines, returning again in the fall to Canton.
In 1829 he lived near Canton, in the family of a sister, and in the same home lived a Presbyterian minister who gave him a Bible, which Mr. Hanan still retains. In 1830 he went back to the mines, and drive an ox team that season. He alternated between the mines and Canton until the Black Hawk war broke out, 1832, when he was at Mineral Point with a team, and joined Dodge's scouting party, consisting of twenty?seven all told. He afterward joined the company commanded by John Hood. When the war closed he was at White Oak Springs fort. 'During his service in the sanguinary struggle, Mr. Hanan was on many occasions given special duty to perform, which in several incidents was of very hazardous nature.
After the Black Hawk war was over, he went to the Iowa side of the river and mined there during the fall, (1832). This was against the Government orders, but he and his party remained there until spring, when the ice in the river broke up and a company of soldiers came to drive intruders away. He went to the Little Maquoketa and mined about Peru that summer (1833). He went back to Canton that winter, and the next summer (1834) got an ox team and hauled mineral from Menominee diggings to the furnace. He wintered where Moline now stands, and hauled logs across the Mississippi on the ice with oxen, split rails, fenced thirty?five acres on the Iowa side, and in the spring (1836), planted corn in the enclosure. He boarded with a man named Earl, who lived on the place of Emerson, who owned Dred Scott, of historic fame. He left there in the fall (1835) and afterward improved a farm on the Des Moines river, in Van Buren county, and lived there two years (1837). He made a farm in Illinois and broke sixty?five acres of soil there. After this, he went again to Rock Island county, but, selling out there, went to Henry county and took up another farm. He finally sold this place for $5.00 an acre. It consisted of 600 acres, all of which, except forty acres, was under fence. He also sold 1000 sheep, for which he received $1 a head. Having disposed of all his interests there, he started for Texas (1847?48). He got as far as Fayetteville, Arkansas, when he received many adverse reports of Texas from men who had been there and eventually he was coaxed by his brother?in?law to return to Illinois. He went down to St. Louis, bought $4500 worth of goods, and that winter carried on a merchandise business in Black's Hawk's town, near Rock Island.
In 1852, Mr. Hanan crossed the plains to Oregon and took up a donation claim of nearly a half section, near Albany, which he afterward sold out to a brother of General Gary. In 1864 he removed to Albany, where he had property, and became interested in a company formed to build a mill, which cost, before they got through with it, $26,000. He sold his interest in the enterprise with a loss of $5,000. He continued his residence at Albany until 1871, when he came to Columbia county Washington, and bought 480 acres of land on Whisky creek. He sold this property in 1877, to the Winnett family for $10 an acre. He then bought for $2,800, four and three?quarters acres in the vicinity of his present residence in Dayton, and resided there until 1880, when. his wife died. That year he sold this property for $3,000 to George W. Young, who laid it out in lots, and Mr. Hanan bought back the block where he now lives for $2,500.
Mr. Hanan was married in Canton, Illinois, in 1837, to Miss Ann Maria Van Winkle. They had no children of their own, but reared from infancy, Julia Ann Terry, who afterward became Mrs. Lewis G. Ketchum, Mr. Ketchum being now a resident of Everett, Washington. Mr. and Mrs. Ketchum's first?born, Archimedes Ketchum, was reared by Mr. and Mrs. Hanan, remaining with them until his marriage to Miss Nettie Keoch. Mrs. Hanan departed this life April 28, 1880, after a happy married life of over forty years. Mr. Hanan now lives in retirement at Dayton. He is a remarkably well?informed man, his mind retaining a wonderful grasp on the affairs of this country for the greater part of the century, and his recital of events of national importance and the causes which led up to them, as well as his acquaintance with the men who were leading figures in connection therewith show him to have been a close student of his country's history, and a man capable of profiting by its lessons. In this northwestern portion of the country he was for many years recognized by the leading men of affairs (with most of who he was personally acquainted) as a sturdy and able character, and his was a well?known figure in many Territorial and State conventions in Oregon. In the days of the old Whig party he was one of its staunchest advocates, and three times he cast his vote for the great hero of that party, Henry Clay. His voice was always for the freedom of the slaves, and when the Republican Party was organized he at once fell into line with its principles and has ever since adhered to them. In the Indian troubles of 1855 he was in Company H, commanded by Captain Leighton, and although opposed to serving in any official capacity, he was unanimously elected First Lieutenant. He served among other places, in the same portion of Washington with which he afterward became identified as a resident, and after the battle at the mouth of Mill creek, in which he participated, was for quite awhile the only commissioned officer who was able for duty. During most of service, however, he was on special duty in various places often being some distance from his command. His reminiscences of the details of the movements of the volunteers in this war? are as clear as they could have been immediately after the occurrences, and he is regarded as an authority upon the events of those times.
Copied from the "History of Washington" published 1894 by Nellie M. Hanan. Archimedes Hanan died Feb. 2, 1902. Editor's Note: The above history was presented to Betty Gibboney by Everett Hanan and his wife Alberta. Archimedes was a brother of Everett's Great?grandfather Samuel T. Hanan. who lived on or near Canton from 1828 to 1859. Archimedes married Miss Ann Maria Van Winkle at Canton, 111, Jan. 28, 1837.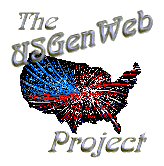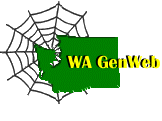 Return to Wa Columbia County


Page Created on 10\16\01
Copyright &copy 2001 by Steve Jacobson