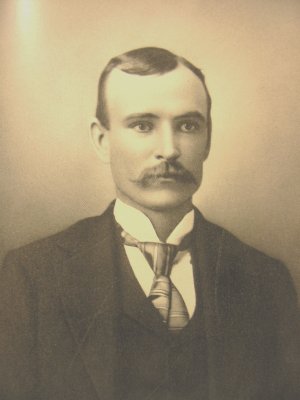 JOHN R. BLIZE
Among the energetic and alert farmers who have made Columbia county the excellent agricultural region it is may be mentioned John R. BLIZE. His birth occurred in Missouri, October 4, 1869, and he was a son of James T. and Nancy (BEARD) BLIZE, who passed their entire lives in that state. To them were born ten children, of whom four are now living.
John R. BLIZE was reared in Missouri, and during his boyhood and youth attended the public schools there. In 1889, when about twenty years old, he made his way to Washington and for a number of years was employed as a laborer. In 1893 he rented land and engaged in farming on his own account. Although this was a marked step forward he was not satisfied to remain a renter and carefully saved his money with the object of purchasing a farm. At length he bought a tract of land on section 5, township 9 north, range 38 east, Columbia county, and resided thereon until his death, November 1, 1917. His practical methods and his close attention to all phases of farm work enabled him to harvest large crops, and from time to time he invested his capital in additional land so that he owned at his death four hundred and ninety-four acres, the value of which is enhanced by the excellent buildings thereon. He also operated rented land and altogether had about one thousand acres in wheat. He owned his own warehouse and was thoroughly equipped for taking care of the grain which he harvested.
On the 1st of October, 1894, Mr. BLIZE was married to Miss Hattie B. CHAPMAN, a resident of Dallas county, Iowa. To them were born seven children, namely; James O., who is now in Batter D. Field Artillery, Washington National Guard; Ica T., deceased; Mildred C., now in high school; Clarence A.; Harold T.; John W.; and Roy E.
Mr. BLIZE was an advocate of republican principles and was loyal in his support of its candidates and measures. He served on the school board for a considerable period and was also county commissioner, in which connection he made an excellent record. He belonged to the Masonic lodge, the Knights of Pythias and thw Woodment of the World, and was well known in local fraternal circles. The signal measure of success which he gained is double creditable in that he made his own way from the early age of ten years. He thoroughly identified his interests with those of this section and was always glad that he decided to make his home here, for he believed that the opportunties for advancement are greater in the Pacific northwest than in other sections of the country.
****
Source: Book: Lymans HISTORY of OLD WALLA WALLA, COLUMBIA, GARFIELD, and Asotin Counties. by. W.D. LYMAN, M.A., Lit.D Illustrated Volume 1 Chicago, The S.J. CLARKE PUBLISHING COMPANY, 1918 pages 622-625, picture on page 623