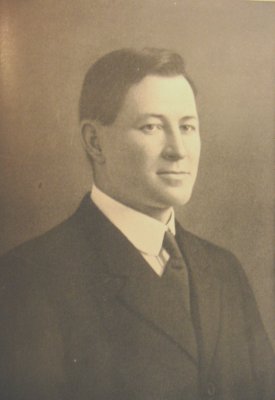 Gustave E. BARTELL
Gustave E. BARTELL, an active factor in the business life of Dayton, is proving successful in the conduct of a garage and a machine shop. He was born in Pennsylvania, June 29, 1875, a son of G.P. and Julia Anna BARTELL, who were born in Germany but in 1874 became residents of Pennsylvania. In 1890 they removed to The Dalles, Oregon, where the father followed the saddler's trade. Four years after coming west, however, he was called by death, but the mother survives and resides in Portland.
Gustave E. BARTELL began his education in his native state but completed it in the schools of The Dalles. As a youth he learned the machinist's trade, which he has since followed, and in 1909 he came to Dayton, purchasing the machine shop which he now conducts. He does all kinds of work in that line and has gained an enviable reputation for accuracy and also for the speed with which he turns out orders. He also has a garage department and has likewise built up a good trade in that connection.
Mr. BARTELL was married in The Dalles, Oregon to Miss May ELTON, who passed away three months later. In 1909 he was married to Miss Letty CLARK, a native of this town and a graduate nurse, having completed the required course of training in the hospital of Walla Walla. To their union has been born a son, Charles. G.
Mr. BARTELL gives his political allegiance to the republican party, fraternally is identified with the Knights of Pythias and in religious faith is a Congregationalist, to which church his wife also belongs. His military record includes service as a captain of Company D, Oregon National Guard. He began his independent career with no capital but with a thorough knowledge of his trade, and with that as a foundation he steadily advanced until he is now in excellent circumstances, and he is recognized as a prominent business man of Dayton.
Source: Book: Lymans HISTORY of OLD WALLA WALLA, COLUMBIA, GARFIELD, and Asotin Counties. by. W.D. LYMAN, M.A., Lit.D Illustrated Volume 1 Chicago, The S.J. CLARKE PUBLISHING COMPANY, 1918 Pages 514-517