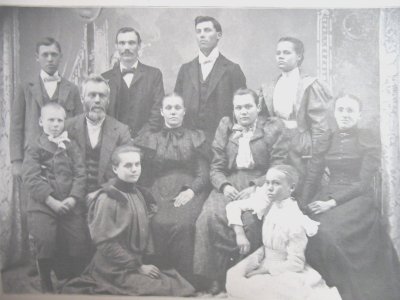 W. E. AYRES
W. E. AYRES, while actively engaged in agricultural pursuits, managed his affairs so ably that he attained financial independence and is now living retired upon his home in Columbia County. He was born in Adams County, Illinois, February 08, 1841, a son of Eli L. and Ruth (STEVENS) AYRES, natives respectively of England and Canada. Following their marriage in the Dominion the parents removed to Illinois in the latter 30's and resided there for a few years but in 1842 went to Appanoose county, Iowa. There the father acquired title to land and engaged in farming until called by death, although he was by profession a physician and Baptist minister. Subsequently the mother removed with her family to Linn county, Oregon, reaching there in 1864, when the Pacific northwest was still largely undeveloped. Eventually she became a resident of Walla Walla county, Washington and there passed away.
W. E. AYRES, who is one of the four living children in a family of six, grew to manhood in Iowa and there obtained his education. He accompanied his mother to Oregon and for seven years was a resident of that state but at the end of that time took up a homestead in Old Walla Walla county, Washington, his farm being located in what is now Columbia county. His first residence was a log cabin and his experiences for a few years were those of all pioneers. At length, however, his land was brought under cultivation, substantial improvements were made thereon and adequate facilities for transportation and communication with other parts of the country were secured. He found farming both profitable and congenial and continued to engage in stock and wheat raising until he retired. He still owns 960 acres of fine land.
In 1868 Mr. AYRES was married to Miss Marth S. REDFORD, of Henry county, Missouri, a daughter of Walker P. and Nancy (DAVIS) REDFORD, the former born in Virginia and the latter in Kentucky. In the 30's Mr. and Mrs. REDFORD removed to Missouri and there the father died in 1861. Three years later the mother with her children, made the long journey across the plains by ox team. For three years they resided in Union county, Oregon, and then went to Linn county, when they came to Washington, where the mother passed away. Mr. and Mrs. AYRES have become the parents of eleven children: Eudora, the widow of W. J. BEAL and a resident of Pomeroy, Washington; Willie and Robert, both deceased; James P., who is also living in Pomeroy; Anna; William S., a resident of Pineville, Oregon; Nancy, deceased; Mary C., a home missionary stationed in western Oregon; Palmer, a farmer; Sarah, the wife of Sanford SKILLMAN, who is farming the home place; and Albert E., anagriculturist of Pomeroy.
Mr. AYRES is a democrat in politics and has served as county treasurer, as county commissioner and as a member of the school board, which office he held for years. His record as a public official is highly creditable both to his ability and his devotion to the general good, and as a private citizen he has given his support to movements calculated to advance the interests of his community. He takes justifiable pride in the fact that he has had a part in the development of this section and believes, that nowhere can the agriculture find better opportunities.
****
Source: Book: Lymans HISTORY of OLD WALLA WALLA, COLUMBIA, GARFIELD, and Asotin Counties. by. W.D. LYMAN, M.A., Lit.D Illustrated Volume 1 Chicago, The S.J. CLARKE PUBLISHING COMPANY, 1918 pages 558-561, picture on page 559