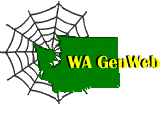 Asotin County, WA History



This is the location of databases provided by US GenWeb and Genealogy researchers.
---
Lewiston Morning Tribune 1960
Alice Ginsbach, 87, Dead At Rest Home
Mrs. Alice Ginsbach, 87, who had lived in Asotin county since she was 6,
died yesterday morning of pneumonia at the Clarkston Rest Haven.
She had been in ill health for some time and had been a patient in the nursing home for more than a year.
Mrs. Ginsbach came west from St. Joseph Mo., with her parents when she was 6 months old.
They stopped in Oregon, then went to Dayton and later settled in the Cloverland area in 1879.
She attended school at Lake and completed her education at Asotin,
where she married Anthony Ginsbach in 1898. He died in 1938.
Mr. and Mrs. Ginsbach owned the first hotel in Asotin,
the Asotin House and until she became ill about a year ago,
she had lived at Asotin. She is survived by three sons,
Anthony
Eugene Ginsbach, both of Asotin,
Carl Z. Ginsbach of Portland, Oregon;
a daughter,
Mrs. Dorothy Weza, Asotin;
and four grandchildren and eight great-grandchildren.
The funeral will be held at Merchant Chapel at 2p.m. Monday,
with the Rev.G.Edward Knight of the Clarkston Methodist Church officiating.
Burial will be at Vineland Cemetery.
Submitted by Carla Weza North