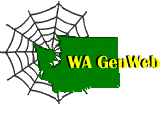 Asotin County, WA History



This is the location of databases provided by US GenWeb and Genealogy researchers.
---
GRANDMA DILLON PASSES AWAY
MRS. MARY JANE BOYD DILLON, WHO HAS BEEN AN INVALID FOR SEVERAL YEARS,
PASSED AWAY AT THE HOME OF HER DAUGHTER, MRS. A.T. GINSBACH.
FUNERAL SERVICES WERE CONDUCTED AT THE FAMILY HOME SUNDAY AFTERNOON,
BEING CONDUCTED BY REV. MR. GORNALL, OF THE METHODIST CHURCH,
AND INTERNMENT WAS MADE IN THE ODD FELLOWS CEMETERY IN ASOTIN.
MRS. DILLON, WHO'S MAIDEN NAME WAS MARY JANE BOYD,
WAS BORN ON DECEMBER 15TH,1835, IN TUSCARAWAS COUNTY, OHIO
AND THERE GREW TO WOMANHOOD.
AT THE AGE OF NINETEEN SHE WAS UNITED IN MARRIAGE TO ISAAC DILLON ON SEPTEMBER 5TH,1854.
THE HUSBANDS DEATH HAVING PRECEDED HERS SOMETIME AGO.
TO THIS UNION TWELVE CHILDREN WERE GIVEN,
FOUR SONS AND EIGHT DAUGHTERS, OF WHOM THREE SONS AND FIVE DAUGHTERS ARE LIVING.
AT THE AGE OF FOURTEEN THE DECEASED UNITED WITH THE METHODIST CHURCH.
SHE CROSSED THE PLAINS IN 1873 AND SETTLED IN THE WILLAMETTE VALLEY LIVING THER UNTIL 1881.
IN 1884 WITH HER HUSBAND AND FAMILY,
SHE MOVED TO A HOMESTEAD ON THE FLAT BACK OF CLOVERLAND,
AND FOURTEEN YEARS AGO MOVED TO ASOTIN, WHERE HER HOME HAS BEEN MAINTAINED EVER SINCE.
MRS. DILLON WAS ONE OF THOSE SPLENDID PIONEER WOMEN,
WHO MAINTAINED THE LOVE AND RESPECT OF ALL WHO KNEW HER.
THE SURVIVING CHILDREN ARE:
MRS. M.J. LEWIS-SILVERTON,OREGON
W.R. DILLON-NAMPA, IDAHO
A.B. DILLON- WALLA,WALLA
MRS. R.A. ELWELL-DAYTON
J.J. DILLON-CHENEY
MRS.A.T. GINSBACH-ASOTIN
JESSIE M. DILLON-SAN-FRANCISCO
MRS.J.E. SHEILDS-SAN DIEGO, CALIFORNIA

ASOTIN SENTINEL COPIED BY: CWN