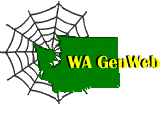 Asotin County, WA History



This is the location of databases provided by US GenWeb and Genealogy researchers.
---
The Sentinel September 27, 1916
Mrs. Bailey Passes Away A telegram was received this Thursday forenoon by A.T.Ginsbach,
from Harvey D. Bailey,at San Francisco,
announcing that his mother, Mrs. George Bailey, passed away Wednesday night.
No information was given as to when he would start for Asotin with his mother's remains,
but a letter is expected Friday or Saturday, giving further details.
The deceased has been in poor health for something like three years,
but was taked to California by her son some six weeks ago with the view of spending the winter,
while he attended school, thinking the change in climate would prove beneficial.
Word received by friends a few days ago indicated that there were no hopes
that she would ever get better and could not live more than two weeks.
Mrs. Bailey had long been a resident of Asotin,
she was about 56 years of age, and was a daughter of Mr. and Mrs. I.J. Dillon,
residents of Asotin at this time. Her husband, attorney George W. Bailey,
died the fore part of February.
Aside from her parent's she leaves one son,
Harvey D. Bailey, nearly twenty-one years of age, and several brother's and sister's,
besides many long-time friends who sympathize with the sorrowing relatives,
and especially so the bereaved son.
Obituary of Rachel Ann Dillon also known as "Anna"
One of the first school teachers and a wonderful artist and painter