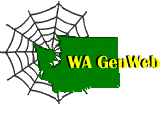 Asotin County, WA History



This is the location of databases provided by US GenWeb and Genealogy researchers.
---
January 07, 1938 Called By Death
Anton Ginsbach, age 73, one of the earliest Asotin pioneers,
passed away at the family home in Asotin Monday morning at ten o'clock,
from a heart ailment from which he had been suffering for several months.
Born in Wisconsin, July 28, 1864, Mr. Ginsbach came to Asotin county about fifty-five years ago.
He operated one of the pioneer livery stables on first coming to Asotin
and later engaged in the hotel business and then for many years was owner of the Asotin pool hall.
He retired from this business a number of years ago. In 1890 he was deputy sheriff here.
Mr. Ginsbach who was so familliarly known to his many friends as "Tony", was a man of true pioneer type,
a good citizen--one who always had the community interest at heart and spoke a good word for everyone.
Surviving Mr. Ginsbach are his wife and four children;
Mrs. Joe Weza,
Eugene,
Anthony,
Carl all of Asotin.
Funeral services were held Wednesday afternoon at 2 o'clock from Merchant's chapel in Asotin,
Rev. Hedley Vicker of Clarkston officiating.
Interment was in the Clarkston cemetery.
Music was provided by Mrs. Charles McCready and Mrs. Wayne Robinson with Mrs. C.H. Clift at the organ.
Pallbearers were George Beckman,
Edward Bucholz,
Rufus Ward,
A.A. Wormell,
Arthur Farrish
C.W. Carlile.
Submitted by Carla Weza North