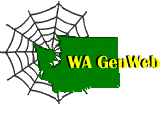 Asotin County, WA History



This is the location of databases provided by US GenWeb and Genealogy researchers. Feel free to contribute information that you have collected to:

---
DILLION
The first Dillons to come to Elmore Township came in the early 1820's.
William, Isaac and sister Ruth were three of the eight children of Benjamin Dillon,
who had served in the Revolutionary War and been given a land grant in Adams County, Ohio in the 1790's.
William Dillon b. 1798 and first wife Nancy Ferren Dillon;
Isaac b. 1792; and Ruth b. 1804 all came to Elmore Township in 1821.
Ruth married Stephen Elmore,
while Isaac was married to Mattenah Baker.
William Dillon, a prominent farmer,
became a captain in the Indiana Militia, 75th and 77th Regiment in 1838 and 1840.
He first settled on what is now called dillon Hill near White River.
Later he moved southeast of Elnora and owned large acreage there.
After his first wife died he married Eliza Satterfield in 1840.
She was born in 1812, the daughter of Solomon and Lavinia Henderson Satterfield, formerly of Kentucky.
Captain William Dillon had seven children by his first wife:
Solomon Ferren,
John Hugh,
James Oscar,
William Perry,
Mary,
Isaac Jackson
Jacob Riley.
Capt. William and Eliza Satterfield Dillon also had seven children:
Ruth America, born 1849 married Harvey Hastings;
Westley Tailer,b.,1847 married Angeline Arford;
Lavinia b.,1855 married George Courtney;
Nancy Eleanor b., 1853, married George Hastings;
Samuel Satterfield b., 1842 married(1) Malinda McCart and
(2) Angeline Arford Dillon;
Joe Morrison born 1845, died 1848; and Milton born and died 1841.
Captain William Dillon, both wives, Isaac Dillon and wife, and many of their children are buried in the Ketchem Cemetery,
Elmore Township southeast of Elnora. Dillon Decendants still living in Elmore Township are great-grandchildren of Capt. William Dillon.
The Dillons of Elmore Township are closely related to the Hastings, Bowman, and Malone families.
History of Daviess County by L. Rex Meyers pg. 271 and 272.